A Connecticut restaurant owner is claiming that Yelp deleted positive posts about her eatery after she refused to purchase advertising from the consumer reviews website.
Kelly Calandro, co-owner of Verace restaurant in Shelton, Conn., said positive reviews about the business started disappearing shortly after she told a Yelp sales rep that she wasn't interested in advertising on the site, WFSB reports. The sales rep continued calling, and Calandro claims each time she refused to buy ads, more reviews went missing.
"In an economy like this, no business can afford to have something negative about them out there," Calandro told WFSB.
Calandro is not the first to claim that Yelp removes reviews of businesses whose owners refuse to buy ads. In 2009 and 2010, the company was hit with several class-action lawsuits alleging such unfair business practices. One Oakland, Calif., newspaper even claimed in 2009 that the then five-year-old startup was in the business of "Extortion 2.0."
Yelp has said its site uses an "automated review filter" that protects users from fake or malicious reviews. The filter, which determines which reviews will be displayed on any given business page, applies the same set of rules for every enterprise profile, the company claims. To increase transparency, in 2010 Yelp introduced a feature that lets businesses see the reviews that have been removed by the filter.
"There has never been any amount of money you can pay Yelp to manipulate reviews," Yelp spokeswoman Kristen Whisenand said in an email to HuffPost.
Yelp's filter "is not a perfect system -- after all, legitimate reviews sometimes look questionable, and questionable reviews sometimes look legitmate -- but we think it does a pretty good job," Whisenand added, citing a 2011 BusinessWeek article about the company's efforts to beef up its detection of fraudulent reviews.
Related
Before You Go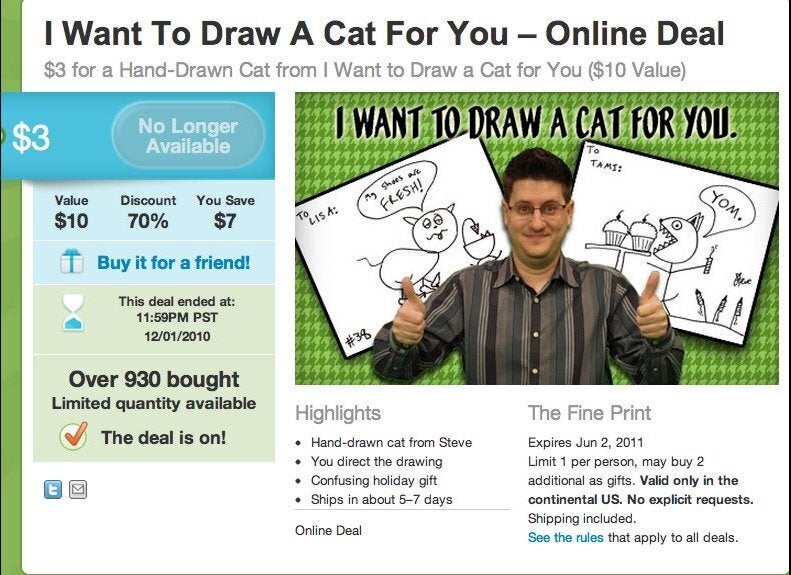 The Weirdest Groupon Deals
Popular in the Community