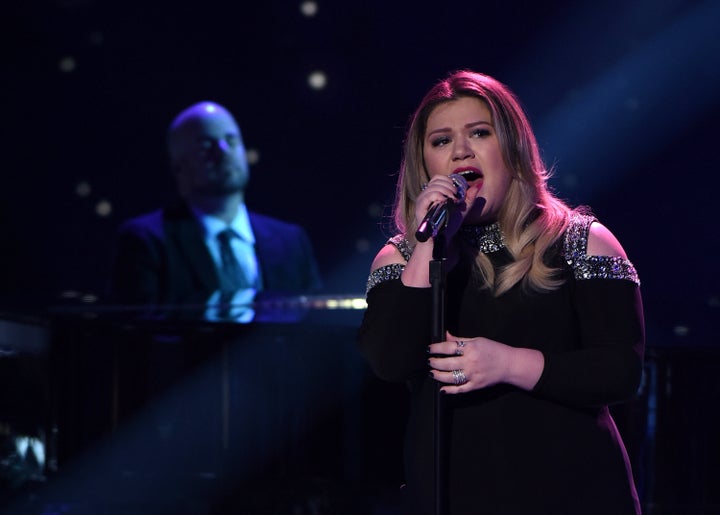 Kelly Clarkson is finally speaking out about her own experience with producer Lukasz "Dr. Luke" Gottwald. 
"We've clashed, but I can't really say anything other than that," she said, before going on to say that Kesha's fans want to know why Clarkson won't stick up for her. "I wasn't there [with Kesha]. I don't know what happened specifically in their situation. Obviously I wasn't in the room. But I can remark on his character."
Clarkson continued, "Unfortunately when you have that poor of character, like so many artists don't like you and don't like working with you. You know, that's not normal. I get along with everybody I work with. He's just not a good guy for me."
The 33-year-old worked with Gottwald on some of her biggest hits, including "Since U Been Gone," "Behind These Hazel Eyes" and "My Life Would Suck Without You." She admitted that while he's "obviously a talented dude," she also said he's "lied a lot."
"I've run into a couple of really bad situations, musically. It's really hard for me because he'll just lie to people, and it makes the artist look bad," Clarkson explained, when asked what makes him difficult to work with. "He's kind of difficult to work with and kind of demeaning. It's kind of unfortunate."
"They were like, 'We will not put your album out if you don't do this," she said, adding. "It was a really hard time for me. And I tried to make the best of the situation."
Clarkson was signed to RCA Records, whose parent company Sony also owns Gottwald's Kemosabe Records. It's important to note that Clarkson's comments on the producer come after finally fulfilling the record contract she won after being crowned "American Idol" in 2002. According to Billboard, the February 2015 release of her seventh studio album, "Piece by Piece," has made her a "free agent." The singer has yet to re-sign with RCA or make moves to any other label, but her history of churning out hit after hit gives her the leverage she needs to sign a better deal this time around. 
During her radio interview on Monday, Clarkson clarified that Kesha's situation is "very different" than hers. Clarkson said she can be "really honest about the guy," but her personal experiences with the producer don't mirror Kesha's in that she never experienced any alleged abuse. 
"If it's true," Clarkson said, referring to Kesha's allegations of sexual abuse, "I can't imagine working with someone who's done something like that."
Calling all HuffPost superfans!
Sign up for membership to become a founding member and help shape HuffPost's next chapter
BEFORE YOU GO