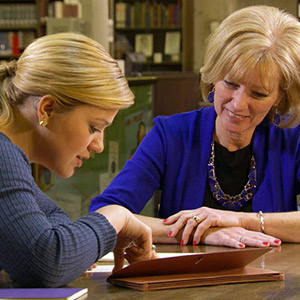 When Kelly Clarkson sang the phrase "land where my fathers died" from My Country,'Tis of Thee at President Obama's second inauguration, little did she know that she was paying homage to her own ancestor, Isaiah Rose.
In the just released first episode of the new TLC season of popular, celebrity genealogy series Who Do You Think You Are?, the engaging Clarkson journeys to Tennessee, Georgia and Ohio following the trail of one of her third great-grandfathers. Along the way, she finds out that he enlisted in the Union Army in the Civil War and fought at Decatur, Georgia where he was taken prisoner and held at the infamous Andersonville Prison. Against the odds, he escaped, only to be accidentally shot by friendly fire when trying to rejoin the Union. What happened next? I'll leave that for viewers to discover.
Easily the most moving moment of the show is when Kelly cries what she calls "happy tears" as she connects the dots between her ancestor, Isaiah Rose, and her recent performance at President Obama's second inauguration. "I just got to perform at an inauguration for a man that never would have been able to be President if it weren't for the sacrifice of my three times great-grandfather," says Clarkson, ". . . I wish and I hope that somewhere not only my three times great-grandfather, but all those people, know that what they fought for mattered."
Given that we're in the midst of the 150th anniversary of the Civil War that almost ripped America in half, this episode is especially timely and an easy-to-digest history lesson wrapped in the story of a current day celebrity and one intriguing ancestor. And I defy anyone to not break out in a wide smile as Clarkson visits Isaiah's grave and greets him with, " I'm your three times great-granddaughter. What's up?!"
Let's hope this is sign of what TLC has in store for us the rest of this season with Chelsea Handler, Jim Parsons, Christina Applegate, Zooey Deschanel, Trisha Yearwood, Cindy Crawford, and Chris O'Donnell (sneak peek in video below). Watch Kelly Clarkson's journey of discovery now by downloading it from iTunes or tune in on July 23rd (9/8c).
Related
Popular in the Community