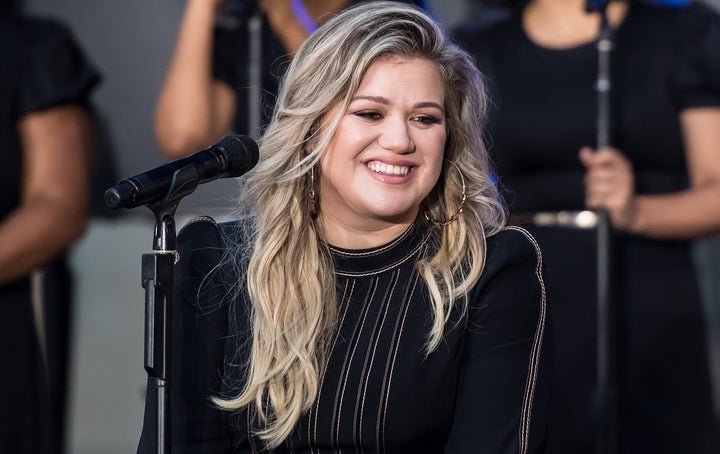 Like many parents, Kelly Clarkson has faced the challenging task of talking to her kids about sometimes upsetting current events. In an interview with Refinery29, the singer revealed how she handles those sometimes difficult but necessary moments.
Clarkson has a 3-year-old and an 18-month-old with her husband, music manager Brandon Blackstock. Blackstock also has two kids from a previous marriage. When asked how she talks to her four kids about the "crazy" things currently happening in the world, Clarkson responded that it's "a very crucial time for anyone with kids."
"It's a daily challenge, because our 10-year-old or 16-year-old will often say something like, 'Why does this person say this, are they allowed to say this?'" she said. "I'm not going to lie, it's hard, because every single day I'm explaining away a news headline or action of someone in politics."
The Grammy winner also noted that many of the horrific topics in the news like sexual harassment, rape culture and bullying are also rampant in schools.
"It all starts young," she said. "So right now we have a unique opportunity to use what's happening to ask our kids, 'Do you think this was right or wrong? What do you think should have happened?' It sounds obvious, but that's the only way, long term, this world is going to get any better."
Refinery29 later asked Clarkson about her experience with sexual harassment, referencing the many allegations against film executive Harvey Weinstein. The singer explained she's experienced sexism in the music industry along with sexual harassment at another job and made it clear she's over the excuses she's heard about Hollywood.
"You always hear these dumb answers like, 'Oh, that's just Hollywood, it's been that way since old Hollywood!' But that's not an answer. That's a cop out, an excuse, and a bad one," she said. "I think every single person can educate themselves on why certain things are wrong, so they're not living in an archaic dark hole. And so they know what it looks like when something is wrong, so they can speak up. But unfortunately I think a lot of people are stuck in their ways, so a lot of it is really all about trying to do better with our kids."
Known for her success on the music charts, her multiple Grammy awards and her outspoken take on being body positive, Clarkson offered advice to girls starting their careers in any industry in which women are overshadowed.
"First, surround yourself with people who truly love and support you and want you to be a better human. Not just a better singer, or a better writer, or whatever your occupation is, but a better human — the kind of people who are not just going to encourage you and empower you, but also open your mind," she said. "Second, don't take advice from anyone you wouldn't want to switch places with. That cuts out a lot of people."