Kelly Clarkson surely isn't afraid to speak her mind on social media, and now she's revealing her strategy behind it all.
The pop star has a knack for successfully shutting down internet trolls and body shamers, often in humorous and powerful ways. In July, for example, when a Twitter user called her "fat," she laughed it off and responded with the following tweet: 
It wasn't the first time Clarkson expertly responded to a body shamer, and it likely won't be the last. 
"I address the situation, but not in a bitter, 'I'm angry about it' way," Clarkson told HuffPost, "but in a sarcastic, funny attitude kind of way. I always like to do it and be lighthearted about it. Because at the end of the day, I think a lot of us take each other too seriously on a lot of things. And it's not that serious. I'm just living my life. You're living your life. Why are you worried about it? I would never obsess over somebody else's life like people obsess over mine. I don't have the time. I have four children."
Clarkson said she tries to take a comedic approach to her social media presence, even if she's writing in response to criticism or an insult.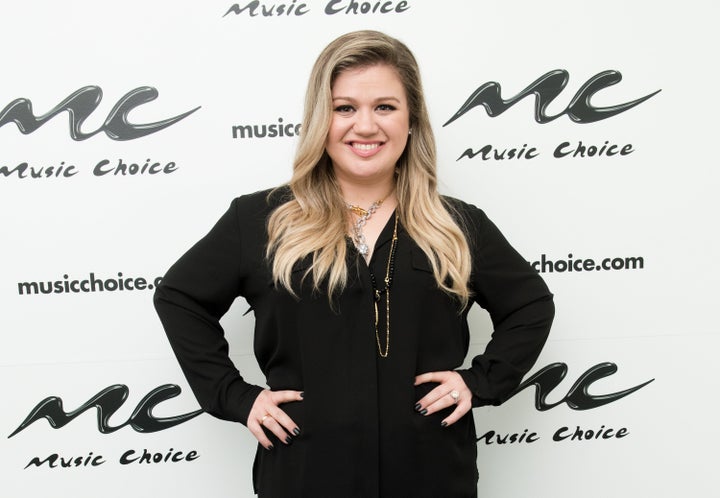 "If I have that spotlight and I have to be that person, it's like, 'Oh well, I have fun with it.' I try to keep it lighthearted," she said. "I'm never mean. I love being self-deprecating. I think that's a little disarming. Maybe it'll change some people and how they attack people online, safely behind their computers."
Although she doesn't know exactly where her strength comes from, Clarkson also doesn't remember being any other way.
"I don't know, maybe it's how I grew up, and that's helped with my personality. Stuff like that never gets to me," she said. "Like, it's never gotten to me. My friends from childhood that are still my friends now will tell you this."
Clarkson says she's fully aware that she may not be everyone's type, and that's perfectly fine. She actually sings about that notion ― and more ― in her new song, "Whole Lotta Woman":
I'm a whole lotta woman
From the way I walk and toss my hips
I'm a whole lotta woman
From the sound to my voice to the gloss on my lips
The confidence she exudes in the song is similar to the way she lives her life. 
″'OK, cool, so you're not into this?'" she said. "'That's great. Somebody else will be. That's fine.' I've never taken that to heart."
Calling all HuffPost superfans!
Sign up for membership to become a founding member and help shape HuffPost's next chapter
BEFORE YOU GO
PHOTO GALLERY
Celebrity Photos 2017