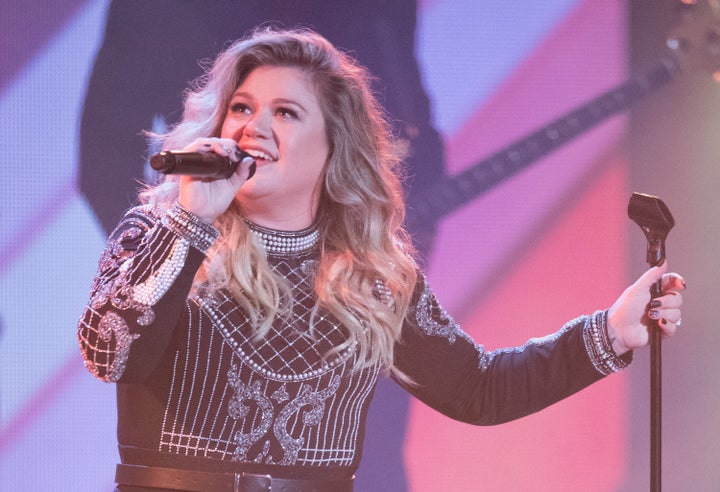 Kelly Clarkson says she's faced her fair share of sexism and bullying throughout her 15 years in the music industry, but is completely stunned by the sexual assault allegations coming out in Hollywood.
"I have not ever been around what's been happening lately. I've honest-to-God been shocked — I don't think God will allow me in that situation because I would end up in jail," she told HuffPost. "If my friend ever came home — guy or girl — and said something like what has been talked about … that's been happening to these women ... You would have to hold me back from blasting that person everywhere ― because that's a predator. They're looking to be that."
Clarkson said she's proud of all the women coming out against media mogul Harvey Weinstein and other alleged assaulters across all industries, particularly in the wake of the #MeToo movement.
"You're going to continue to do that to other people unless we call you out," she said, noting the men accused of sexual assault "might be sick and need help."
"You hear certain things and you're like, 'That's not a normal way to act, dude. Like, I don't know what you're gauge is for normal. But that's not it. I've honest-to-God been shocked," Clarkson added. "I was just shocked. I feel naive for saying it."
The former "American Idol" star, who lives near Nashville, said she doesn't spend time in celebrity circles, which is possibly why she wasn't aware of the  longtime problem in Hollywood. 
"I don't have celebrity friends. I live in Tennessee, and before that, in Texas. I've obviously experienced sexism. That happens," she said. "I've never experienced anyone making someone feel uncomfortable like that. And I hope to God I never do."
The singer has worked with Lukasz "Dr. Luke" Gottwald, a producer accused of sexual assault and battery by singer Kesha. Clarkson posted a cryptic tweet seemingly in support of Kesha during the "TiK ToK" singer's legal battle, and revealed in September that she passed up a songwriting credit to avoid having her name next to Gottwald's.
″"I was like, 'I don't want my name near his. I want to pretend this didn't happen in my life and I want to forget it,'" she told radio station Z100. 
Although she hasn't experienced assault or harassment during her career, Clarkson does have friends who have faced traumatic experiences when they were young.
"I do know people that have had horrendous things happen to them as a child," Clarkson said. "I don't think people get the gravity of what that does to someone emotionally ... It can stunt their growth and everything ... I've had friends speak out about things that have happened to them as children. And I think that is important. Not only just to slam people or call them out, but for their healing."
Whether it's abuse that's happened as a child or an adult, Clarkson thinks talking about it ― as hard as it may be ― is a good first step.
"Once you start telling people this happened to me, then it's validated," she said. "Then it's owned and you can get it out and you can work at least on whatever that issue is openly. Suppressing something like that — that's detrimental to society, not just to one individual."
REAL LIFE. REAL NEWS. REAL VOICES.
Help us tell more of the stories that matter from voices that too often remain unheard.
BEFORE YOU GO
PHOTO GALLERY
Celebrities React To Harvey Weinstein