More than four hours after her scheduled execution, Kelly Renee Gissendaner, Georgia's only woman on death row, was put to death by lethal injection at 12:21 a.m. Wednesday.
Gissendaner made a final statement and requested a final prayer, according to a spokeswoman for the Georgia Department of Corrections. Witnesses to the execution told media that Gissendaner sang "Amazing Grace" all the way to the end.
As the 7 p.m. window on Tuesday for her scheduled execution came and went, Gissendaner's lawyers filed petition after petition: one to the U.S. Court of Appeals for the 11th Circuit, one to the Georgia Supreme Court and three to the U.S. Supreme Court.
One by one, each motion was denied.
Earlier that day, the Georgia State Board of Pardons and Paroles had denied clemency for Gissendaner despite pleas from the pope and thousands more in the faith community.
Pope Francis, via his personal representative in the United States, appealed to the board for Gissendaner.
"While not wishing to minimize the gravity of the crime for which Ms. Gissendaner has been convicted, and while sympathizing with the victims, I nonetheless implore you, in consideration of the reasons that have been presented to your Board, to commute the sentence to one that would better express both justice and mercy," Archbishop Carlo Maria Vigano wrote on the pope's behalf (see below).
Her supporters, including several who served with her in prison, said the 47-year-old mother of three found faith behind bars and helped others resist despair and rehabilitate themselves. They argued Gissendaner should be spared for the good she had done and could do in prison.
Retired Georgia Supreme Court Justice Norman Fletcher said that executing Gissendaner was unjust because her death sentence was not proportionate to her role in the crime. Fletcher voted 15 years ago to uphold that sentence, a vote he now regrets.
Gissendaner, a 47-year-old mother of three, was the first woman in 70 years to be executed in Georgia. She plotted with boyfriend Gregory Owen to kill her husband, Doug Gissendaner, in 1997. Owen, who committed the murder, will be eligible for parole in seven years.
Fletcher said in a statement this week that since the death penalty was reinstated in the U.S. in 1976, Georgia has never executed a "non-trigger" person for a murder.
"There is a reason for this," Fletcher said. "Kelly Gissendaner should not be the first."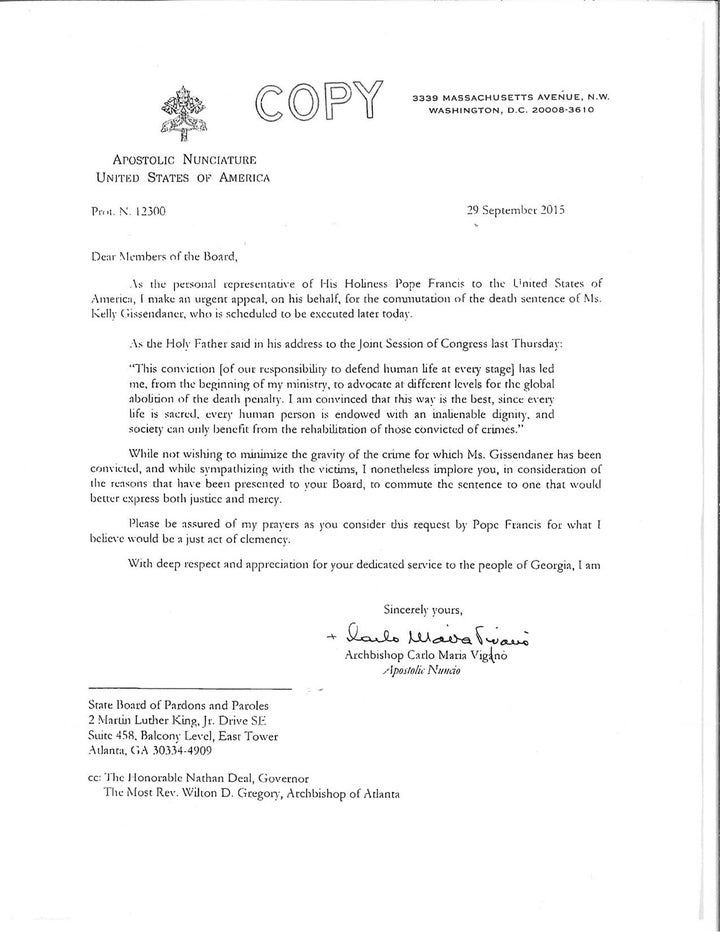 Gissendaner had been spared twice this year due to events beyond the control of lawyers or politicians. An execution date of Feb. 25 was put on hold due to a rare winter storm that affected travel conditions and prison staffing. A March 2 execution date was called off at the last minute when the lethal injection drug became mysteriously cloudy and deemed too risky to use.
"It was like a miracle. I feel like God has had a hand in it," said Megan Chambers, a former inmate who met Gissendaner at Metro State Prison in Atlanta and is was among her many supporters.
Faith became a major facet of Gissendaner's story thanks to her widely reported jailhouse conversion, her friendship with famed theologian Jürgen Moltmann and her one-woman ministry behind bars, which several inmates credited with saving their lives when they were on the brink of suicide.
"Maybe because she played a part in taking a life, she wants to save lives now," said Chambers, who was on suicide watch when she met Gissendaner.
Chambers is one of the "Struggle Sisters," a group of formerly incarcerated women who now communicate online to share everything from moral support to job leads. Several of the roughly 400 members served time with Gissendaner and had spoken out on her behalf.
Beyond the inherent value of Gissendaner's life, she helped troubled inmates to rehabilitate themselves and thus had value that the Georgia Department of Corrections would be wise to recognize, Chambers said.
"Kelly did that. Prison doesn't help you rehabilitate -- prison's a business," Chambers said. "How could the state kill her when she's more of a benefit alive?"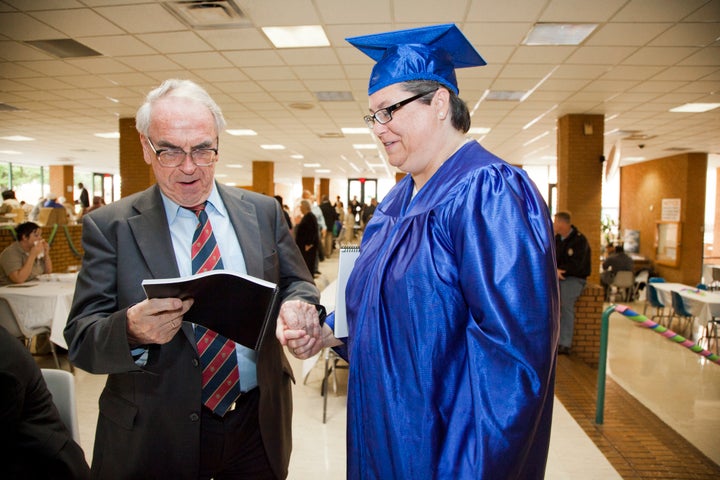 Gissendaner didn't mince words about her responsibility for what happened: She acknowledged that her actions alone landed her on death row. During a February clemency hearing, she told the board, "There are no excuses for what I did. I am fully responsible for my role in my husband's murder. I had become so self-centered and bitter about my life and who I had become that I lost all judgment."
Kayla and Dakota Gissendaner were just 7 and 5 years old when their mother plotted their father's murder. After years of anger, they forgave her and became some her staunchest supporters for clemency.
"My brothers and I lost one parent. I don't know that I can lose another one," Kayla said in a recent video statement (see below). "I haven't done anything wrong, and I feel like I'm the one being punished for something."
Friends said that Gissendaner's eldest son from a previous relationship also supported his mother, but left public comment to his half-siblings.
While victims' statements factor heavily in a clemency board's decision, not all of the victims in Gissendaner's case agreed that she should be spared the death penalty. Unlike their grandchildren, Doug Gissendaner's parents wanted to see her executed.
Kara Stephens, now one of the Struggle Sisters, was nearing the end of a 10-year sentence for armed robbery in 1999 when the stress of re-entry -- and facing a life with no friends, no job prospects and two teenage children who "hated her" -- drove her to violent outbursts. She was placed on lockdown in a cell near Gissendaner.
"I was upset, crying out, cussing. Kelly knew me throughout the years. She said, 'This is not like you. You're a strong person,'" Stephens recalled.
Gissendaner encouraged her to find a church family to take her in and told her that God had a purpose for her life even if she didn't know what it was.
"I haven't been in trouble for six years," said Stephens, who now works for the Mercy Junction Justice and Peace Center, a ministry in Chattanooga, Tennessee. "It's all because of of Kelly. Otherwise, I may have got out and robbed another store with a toy gun and got locked up again."
Stephens and her fellow Struggle Sisters recognize that finding religion on death row is a well-worn jailhouse cliché, so they offered themselves as living proof that Gissendaner's conversion is genuine.
"I met a lot of really evil, mean people in prison. People who killed children. People who you could feel the evil coming off of them," Stephens said. "And Kelly was not like them."
Chambers said she had been in solitary for months when she decided to end her life by lighting her mattress on fire and hanging herself from the light fixture in her cell. The deputy warden cut her down in time, and she was placed on suicide watch in a cell above Gissendaner's.
She said no one in the prison or in any other ministry was able to reach her until Gissendaner gently spoke to her through the air vent. "If anyone can understand the depth of remorse and regret, I definitely can," Gissendaner told her.
"That really hit home with me, because I was so full of regret and remorse because of the stupid decisions I made that ruined my life," Chambers said. "Kelly could understand. She could relate to the fact that I hated myself."
She said Gissendaner told her that her life had value and that she had to want to change. Chambers said she took those words to heart and turned her life around upon leaving prison.
"When I thought it was too much and couldn't keep going, I thought of Kelly," Chambers said. "Even now, if she could keep going and she could change, so can I."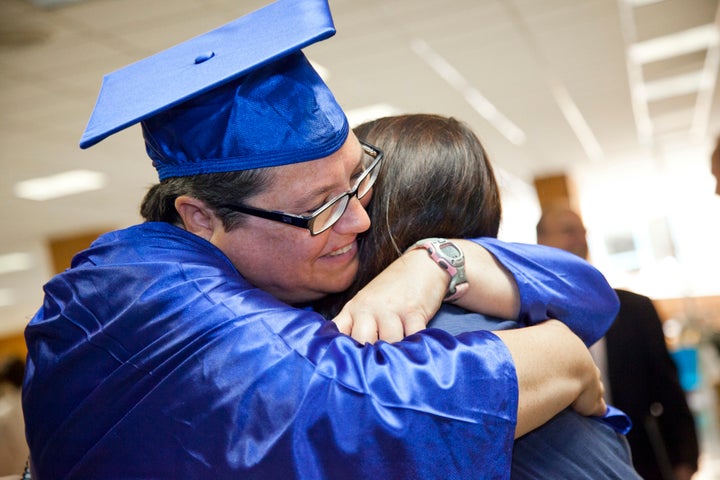 Marcus Easley first met Gissendaner nearly 20 years ago when the criminal justice professor and retired Chattanooga police officer brought his students to the prison to show them the reality.
"I was never one who wanted to be the executioner, but I never cried a tear about the death row inmate and their sad story and bad childhood," Easley said. Meeting Gissendaner, and hearing her clear-eyed acceptance of responsibility, changed his mind.
"I started looking at people as people and not inmates," he said. "I thought, 'Wow, what could happen in my life and [I might] be in her same place?'"
Easley, who considers himself a close friend of Gissendaner's, called the pope's recent appeal to Congress to end capital punishment "dead-on."
"Trust me, I've met evil," Easley said. "But I cannot imagine that anybody is just 1,000 percent beyond redemption."
When someone like Gissendaner has demonstrated a real transformation and is still denied mercy of any kind, he said, it lays bare an ugly secret of the death penalty system: "The machine is rigged not to stop."
Calling Gissendaner "the poster child for rehabilitation," Easley said that refusing her clemency sends a clear message to other inmates.
"The state of Georgia is telling every inmate, 'Don't behave. Don't do it right. It doesn't matter,'" Easley said. "Because if you're a respectful, courteous [person] and you obey the rules and you do what you're told, it does nothing for you."
According to Easley, Kayla Gissendaner refused to describe her mother's then-looming death as an "execution."
"She says, 'My mom is being killed,'" Easley said.
He added that a governor's aide recently told him, "We prefer you to say 'executed.'" And Easley said, "I told him, 'I know what you want me to use, but you're gonna have five men strap a helpless woman down onto a gurney and pump her full of drugs till she's dead. What else are you gonna call that?"
This story has been updated.