The Seattle runner who was assaulted in a public women's restroom last week is using a familiar battle cry to denounce an organization that tried to use her attack story for its political agenda.
"To the people behind I-1552, I say 'not today, motherf***ers,'" Herron said in a statement released Tuesday. "I refuse to allow anyone to use me and my horrific sexual assault to cause harm and discrimination to others."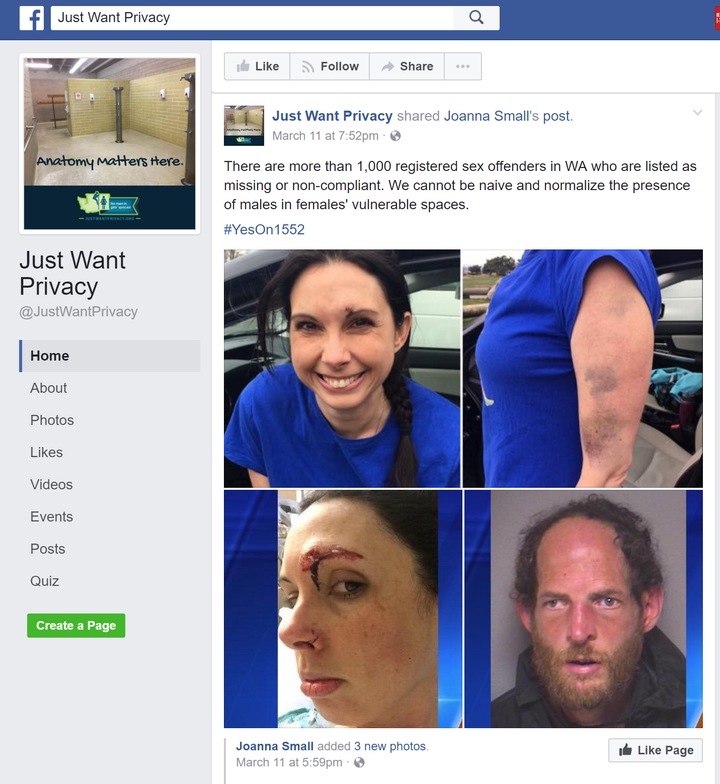 Gary Steiner, a 40-year-old registered sex offender in Arizona, allegedly attacked Herron after she stopped to use a public restroom during her run through Seattle's Golden Gardens Park last weekend.
Herron fought back hard against her attacker, using tips she learned from a self-defense workshop just three weeks earlier. She was able to lock Steiner in the restroom while she waited for police to arrest him.
"I fought for my life screaming ('Not today, M**F**er!'), clawing his face, punching back, and desperately trying to escape his grip ― never giving up," Herron wrote on Instagram after her attack.
When she learned that the Just Want Privacy campaign used her attack to promote its efforts to ban transgender people from restrooms, she took a stand.
Herron told The Huffington Post that she does not support I-1552 because it discriminates against transgender people.
"They know they shouldn't have used my image and story without my permission but they still somehow try to say that discriminating against transgender people is essential to preventing sexual assault," she said. "That's just ridiculous." 
Herron said in her statement that I-1552 wouldn't have prevented her attack. She argued that the initiative targets and harms transgender individuals and demanded that Just Want Privacy refund any money they raised using her story.
Now, the Washington Won't Discriminate campaign is using Heron's statement to fundraise and raise awareness for its own fight against I-1552.
"Since many of the volunteers that comprise this campaign are themselves survivors of sexual assault, the last thing we want to do is make anyone feel exploited," Just Want Privacy said in a statement posted to Facebook on Tuesday. "If our actions have inadvertently failed in this effort, we are sincerely sorry."
Kaeley Triller Haver, the campaign's communications director, told KIRO 7 that Just Want Privacy is not an anti-transgender group and only aims to protect women's safety.
But the petition specifically targets transgender people and would force transgender people to use locker rooms and bathrooms based on their gender at birth rather than the gender with which they identify. 
Still, Triller Haver maintained that Herron's attack was relevant to their campaign.
"Our campaign exists to protect women so they don't have to experience what she did," she added.
Herron said the campaign supporting I-1552 has not reached out to her yet. She also called its apology a "sorry-not-sorry public statement."
"I was beyond upset to learn that this political campaign was using my name, image and story to raise funds and further their agenda towards a cause that I do not support and that discriminates against others," she told HuffPost. 
The Just Want Privacy campaign did not respond to a request for comment.
Read Herron's full statement against I-1552 here.
This article has been updated with additional statements from Herron. 
REAL LIFE. REAL NEWS. REAL VOICES.
Help us tell more of the stories that matter from voices that too often remain unheard.
BEFORE YOU GO
PHOTO GALLERY
48 Transgender Pioneers