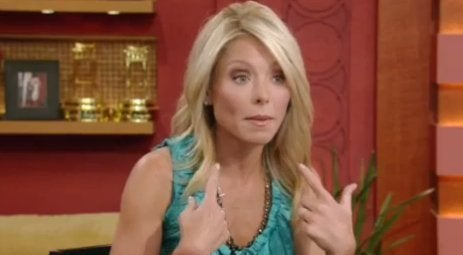 Kelly Ripa may be a fitness fanatic, but she swears she's not looking pretty as she works out.
Last week on "Live! with Regis and Kelly," Ripa told guest co-host Bryant Gumbel that she looks like Peter Pan when working out.
Ripa was discussing her workouts at SoulCycle, New York's cult spinning studio where she (along with many other celebrities) is a regular.
"You would love it," she told Gumbel. "This is different [from cycling], this is really different, this is essentially yoga, weights, pilates, dancing all on a bike."
Gumbel said he prefers to work out alone and said he was surprised that Ripa would work out in a group.
"I prefer a group mentality," she said. "I think there's power in a group, I think the group motivates everybody. I think everybody really pulls together, and there's something sexy about the sound and look of a unified group of people working out."
But Gumbel said he believed that people in the room would stare at Ripa as she worked out.
"I think they're aware of your presence and you're wrong that the guys aint checking you out," he said.
"No, never! Youve never seen me work out. I look like Peter Pan," she said. "The makeup comes off, the hair goes into a bun and the padded bra comes off, and Peter Pan is floating next to you on a bike. I bet you I could spin next to you and you would not know it was me."
Ripa and Gumbel also differed on their workout music strategies: "I need that beat," she said, while he said he prefers to work out in silence.
WATCH (exercise discussion begins around 3:30 in):

Related
Popular in the Community