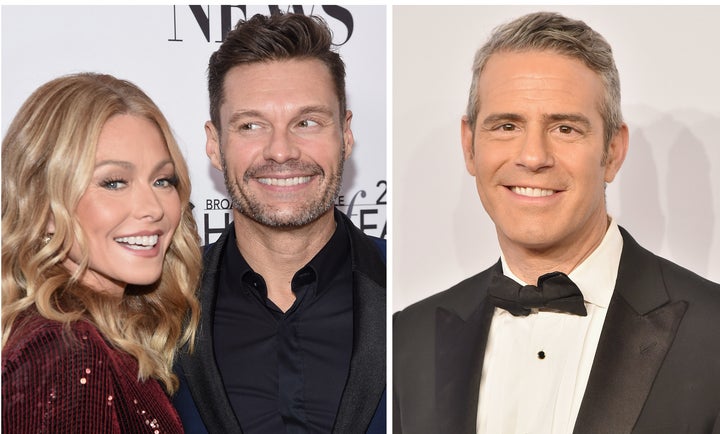 The "Live with Kelly and Ryan" co-host claimed to Kelly Ripa during their talk show Tuesday that he was snubbed by Andy Cohen while the two were filming opposing New Year's Eve specials last week.
Seacrest hosted ABC's "Dick Clark's New Year's Rockin' Eve," which was apparently taped less than 10 feet away from the CNN New Year's Eve special that Cohen hosted with Anderson Cooper.
"It was funny because my big stage was right in front of Anderson and Andy, and so when I was not working, I was trying to, like, get their attention," Seacrest recounted. "I thought maybe I was in the shot. I just wanted to wave and say hi. You know, they have a great show."
Seacrest said that Cooper turned around and waved at him, mouthing, "How are you?" and "Have a good show" — which was a move that Seacrest described as "class."
"Andy did not turn around," Seacrest added like it was a punchline.
Ripa, who is friends with Cohen, quickly shot down Seacrest's version of the story.
"That's not true," Ripa said without skipping a beat. "He said he was trying to get your attention."
Seacrest appeared to be slightly taken aback by Ripa's comment but still asserted his opinion that he was slighted.
"Really? I'm like, 'Hey, it's me. Guys, it's me. Put me in your shot. Put me in your background,'" Seacrest said.
Cohen responded to the allegation on Wednesday's episode of SiriusXM's "Andy Cohen Live" by saying Seacrest has "a bug up" about him and that he had no intention of brushing him off.
Cohen also placed the blame on Cooper, saying that he and Cooper have an arrangement — if one of them spots Seacrest on New Year's Eve and waves, they tell the other to do the same.
"Usually what Anderson will do… if he's waving at Ryan, he'll say to me, 'Hey, there's Ryan,'" Cohen said. "... And then I'll turn around and wave or I'll say, 'There's Ryan,' but [Cooper] didn't do that."
Cohen then felt the need to corroborate this silly ritual with Cooper by calling him live on his SiriusXM show.
Cooper, who was hesitant to get involved in this petty situation, reluctantly confirmed that he forgot to remind Cohen to wave. Cooper explained that when he made eye contact with Seacrest and had the opportunity to wave at him, Cohen was busy.
"You were talking," Cooper said to Cohen. "You were involved [with] some producer."
Cooper said he assumed Cohen had acknowledged Seacrest on his own and said the whole situation "happened so fast" and "wasn't a big deal."
Seacrest and Cohen have been trading jabs for quite some time now.
The two hosts worked the same New Year's Eve specials last year, but Cooper and Cohen had a bit too much to drink, which led to Cohen doing a few regrettable things live on air — including gesturing to ABC's "New Year's Rockin' Eve" taping and referring to it as "Ryan Seacrest's group of losers."
Cohen later apologized for the diss, but his loose lips led to CNN imposing a drinking ban on its hosts during the broadcast last weekend. It was a move that Seacrest recently said was probably a "good idea."
"I don't advocate drinking when one is on the air," Seacrest told Entertainment Weekly last week. "I don't know how that started as a tradition, but it's probably a good idea [to scale back], CNN."
Popular in the Community