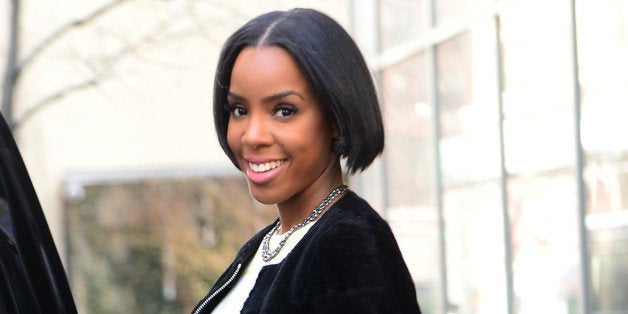 HuffPost Entertainment spoke to the singer this week at New York City's 24-Hour Fitness gym in the Manhattan neighborhood of SoHo, where she was promoting Zumba's latest fitness program, Zumba Step. The Grammy-winning singer discussed her fourth solo studio album, "Talk a Good Game," the final season of "X-Factor," the future of her beloved girl band with Beyonce and Michelle Williams, and all of her big plans.
"Talk a Good Game" has been called a celebration of womanhood. Do you consider yourself a feminist?
I am a feminist! I believe women are the most incredible creatures on earth. I think men are truly from a different planet because our planet is the shit. It's just all our own and we're just amazing creatures. God knew exactly what he was doing.
One of the songs that really stood out to me on the album was "Dirty Laundry" because it is so raw and puts you in such a vulnerable position. Did you have any hesitations about releasing it?
Of course. A song so personal like "Dirty Laundry," you always feel a little bit apprehensive about releasing because it is so personal. I think that when you release something so personal you also don't want people to misunderstand your story. That happened a little bit but I really didn't care because people will talk anyway. I heard a very wise woman say, "Whenever people stop talking, that's when you worry." It was my truth, I can't speak on anybody else's truth, but it was my own.
You just finished touring with The-Dream in support of "Talk a Good Game." What is ahead for you in your music career?
I'm super excited to get back in the studio, you have no idea. It's actually been the main thing on my brain because I feel like I have so much to say at this point in my life, as a woman, as a woman with a moving career and great people around me, other great women around me who are going through different things ... life. Life, it's just always some sort of inspiration. That's where I'll be coming from with my next album.
Do you think that will be soon?
I think it will definitely be soon. Definitely. I'm in a really happy place, too. I feel like everything is starting to sound the same, I kind of want to shake things up. I want to try everything, to be completely honest. [I was inspired by] some of the contestants on "X-Factor." Watching little Rion Paige sing her song, and when she actually sang some songs it just moved me in a different way. And listening to Jeff's story, the contestants inspired me to want to run back to the studio. I can't get there fast enough right now.
Who would you want to work with on your next album?
To be honest, I'm just trying out new blood. New writers and new producers. But I have some new things up my sleeve that I'm thinking about, which I'm very excited about. I'm not gonna let it out yet. I think the element of surprise is very important.
As Beyonce showed us! Did you know her album was dropping that day?
Genius! I didn't know what day, but I knew it was coming. It was the most brilliant. I'm super proud of her.
What's your favorite song on her album?
I can't listen to it because it makes me cry, but my favorite song on the album is "Blue." Also, "Heaven." As soon as that song comes on, it's something that's very spiritual about that record that's incredible. And "Flawless."
With last year's Super Bowl, there is clearly still a major Destiny's Child fanbase. Is there any hope for a full-blown reunion?
We haven't talked about it, but I will definitely say that there is something ... a lot of people are hoping for that right now, but we just still have our friendship above anything. You guys don't get a chance to see that. That's like, our best moments, when we actually get a chance to hang out.
What's your favorite Destiny's Child song?
"Say My Name." Definitely "Say My Name."
Rowland is currently promoting the launch of Zumba's new specialty program, Zumba Step. The new twist on the classic step aerobics workout targets glutes, legs and thighs. Rowland hit the gym at SoHo's 24-Hour Fitness to participate in Zumba Step's Preview Class.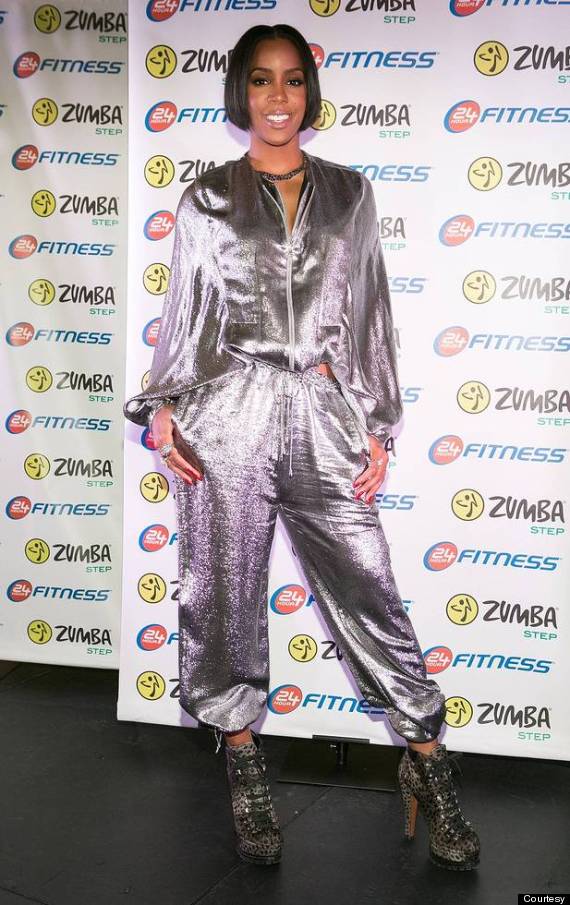 "Funny enough, recently over Thanksgiving, my family and I, we got so full off of food and when we finally got up, everybody felt a little guilty," Rowland told HuffPost. "So, we all went to the gym and there was a Zumba class that was about to start and my soon-to-be sister-in-law goes, "We should go to a Zumba class!" I said, "Well let's go!" We went and we had so much fun. Next thing I know, I was on the side breathing hard like, "I did not ask to perform today." That's basically what it is, you're constantly moving and it's basically how you feel when you come off stage. You're moving the whole workout and you're having a good time."
Before You Go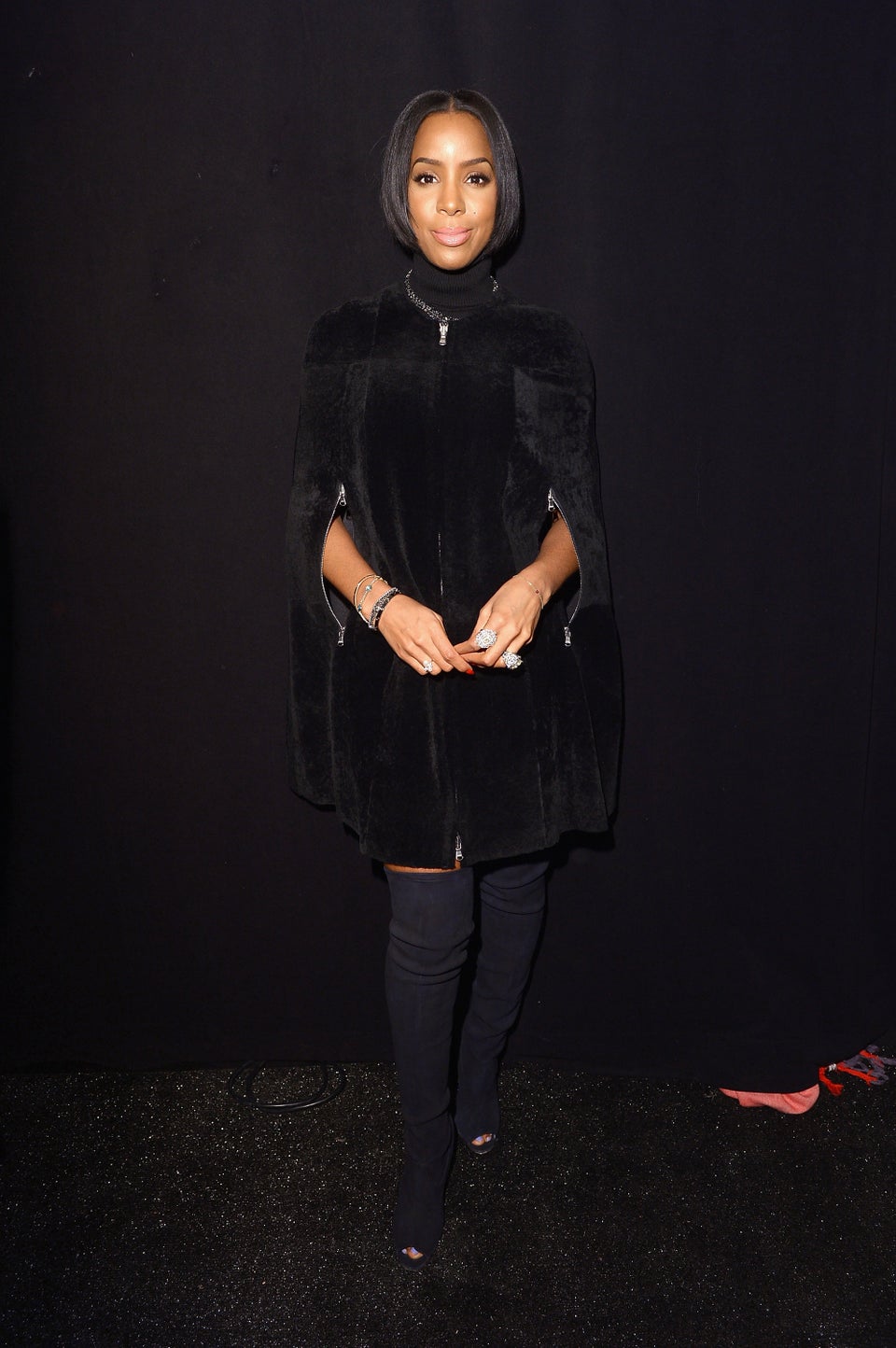 Kelly Rowland