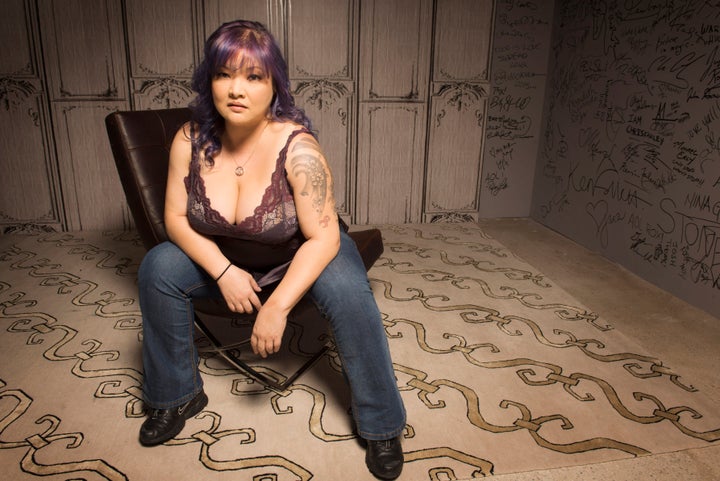 Kelly Shibari might not fit the profile of a model one would expect to see in a spread for Penthouse. The magazine is historically known for promoting conventional -- i.e. whitewashed, ultra-thin and youth-obsessed -- standards of beauty throughout its 50-year history.
Shibari is 43, half-Asian and full-figured. The fact that she is considered "unique" among adult entertainers makes her all the more appealing to a growing fanbase, signifying welcome change within the adult entertainment industry.
The model and adult film actress will be the first plus-size woman ever featured in Penthouse in an issue that hits stands Dec. 22. The spread, called "The Girl Show," features Shibari alongside two slender models in a sideshow circus-inspired photo series.
Shibari, who grew up in Japan, hasn't always been as confident as she is today. She told The Huffington Post that she was a victim of bullying throughout her formative years.
"The beauty standard in Japan at that time was that women were very small and petite and slender and didn't really have a lot of curves," she said. "I was probably a little bit chubbier than most of the girls. I'm half-Irish so I developed early, and so when you're in sixth grade and you have a C cup, all the kids automatically assume it's just because you're fat. And so, I was bullied."
It wasn't until she came to the U.S. for college in 1989 and saw people around her with similar body shapes that she began to build her confidence.
After finishing school, she spent more than a decade as a roadie, production designer and art director before foraying into pornography, initially as a way to make money while productions were halted during the 2007 Writers' Strike.
A friend who did amateur pornography told her about an emerging demand for plus-size porn performers, instructing her to look at some websites that featured bigger women. Shibari grew up in a household fairly accepting of sexuality and nudity, and had always thought about seeing herself in the pages of a gentleman's magazine, but never dreamed it could be a reality.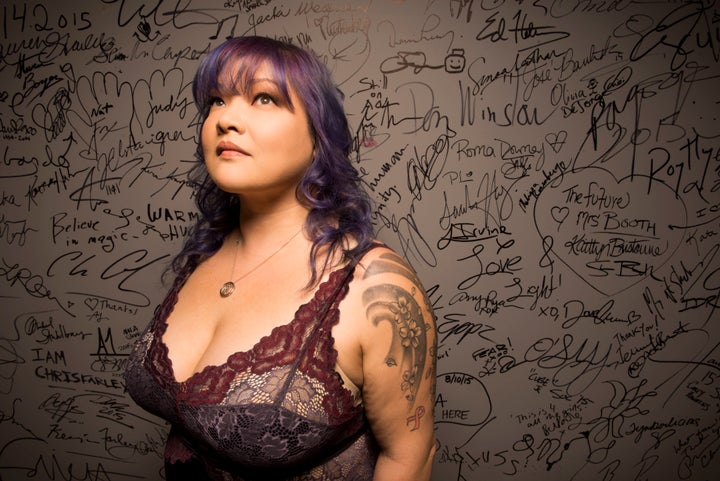 "I looked at the websites and I realized that these were dedicated to plus-size women who were not, like, the butt of a joke. And I was like 'Well, OK, sounds like fun. I'm kind of a bucket list girl. So I'll send my pictures in. If they take me, then I'll do it.'"
In 2014, Shibari was hired to model for a spread in Penthouse Forum, an offshoot of the Penthouse brand that caters to couples erotica.
The issue sold out quickly, with positive feedback from women and plus-size advocates, prompting the Penthouse brand to put Shibari in its main publication, Penthouse.
"Adding a plus-sized girl, which is something they've never done before, is kind of a scary thing," said Shibari. "On one hand, you're worried about if people are going to be like, 'Ugh, I'm never going to buy the magazine again.'"
"On the other hand, you've got all of the size [acceptance] advocates and the people who are finally coming out of the proverbial closet and saying that they actually do like plus-size men and women, and all of the feminists saying, 'yes, size acceptance, beauty comes in all shapes and sizes.'"
Overall, Shibari feels positive about the upcoming Penthouse issue.
"I'm sure that people there will be some people who come out of the woodwork who will be like, 'Oh God, I can't believe they put a fat girl in the magazine,'" she said. "But I think that the way things have been going the past few years, with size acceptance and more plus-sized men and women being in the mainstream spotlight as well as in adult entertainment, I think that the reception will be good."
The January 2016 issue of Penthouse will appear on news stands wherever adult magazines are sold on December 22, 2015.
Popular in the Community