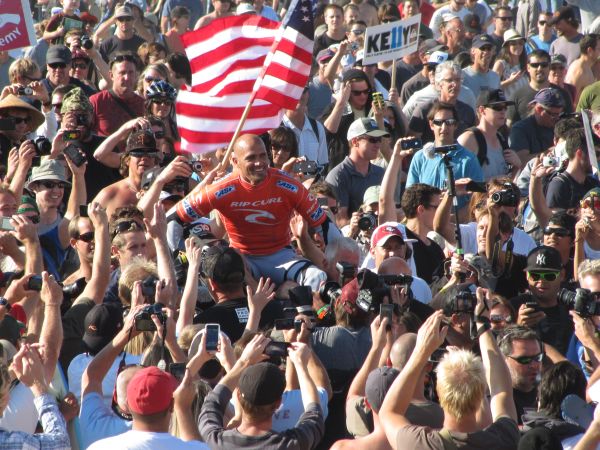 Slater's 11th World Title celebration was apparently a little too soon.


The Association of Surfing Professionals (ASP) is the governing body that sanctions all major surf contests around the world, similar to what the NFL means to football or the NBA to basketball. For the past 28 years they have been the organization deciding who are the best of the best in surfing. During this time they have been heavily criticized by surfers and fans alike for numerous reasons, among them making the scoring and ranking system too complicated, kowtowing to surf industry companies that sponsor contests, allowing heavily biased commentators and judges to influence contests, not financially compensating the surfers enough, and choosing poor locations for contests. So you can imagine the shock and surprise Kelly Slater, who supposedly won his 11th World Title Wednesday in San Francisco, must have felt when he found out the deplorable news that, due to a technical error by the ASP, Slater officially didn't win his 11th World Title. Rather, he clinched a tie with Australian Owen Wright, who is second in the rankings, and if for some reason Slater doesn't win another heat in either the Rip Curl Pro Search San Francisco or next month's Billabong Pipe Masters and Wright goes on to win both events, Slater and Wright would be tied and have to meet in a "Surf Off" to determine who exactly is the 2011 ASP World Champion. The press release issued this morning by the ASP explains their egregious error in detail.
The ASP has admitted that, due to a calculation error within its rankings' system, the 2011 ASP World Title has yet to be officially decided and that Kelly Slater (USA), 39, was prematurely awarded his 11th ASP World Title on Tuesday.

"Our rankings' system is designed to split tie-breaks based off of seed points," Renato Hickel, ASP World Tour Manager, said. "Kelly (Slater) and Owen (Wright) tied at best nine of 11 results, so we went to best eight of 11 results and the system gave it to Kelly based off his higher seed position. We were operating under that assumption and created the ASP World Title scenarios based off of that. This was a mistake. In the end, we're responsible for this and should be held accountable. We apologize to our fans, the surfers and to Owen and Kelly."

Moving forward, Slater must win one more heat, either at the Rip Curl Pro Search San Francisco or at the following event at Pipeline in Hawaii to confirm his 2011 ASP World Title. For Wright to remain in the hunt, he must win both the Rip Curl Pro Search San Francisco and the following event at Pipeline in Hawaii.

REVISED 2011 ASP WORLD TITLE SCENARIOS:

- If Kelly wins either Round 4 or 5 (one more heat win) in San Francisco, he will confirm his 2011 ASP World Title.

- If Kelly fails to win another heat in San Francisco, Owen must win this event to send the 2011 ASP World Title race to Hawaii.

- If the race goes to Hawaii, Kelly must advance out of one heat to confirm his 2011 ASP World Title. If Kelly fails to advance through a heat at Pipeline, Owen must also win this event to stay in the 2011 ASP World Title Race.

- If Kelly fails to advance out of another heat this season, and Owen wins in San Francisco and Pipeline, the two will tie at best of nine, eight, seven, etc. events, and the 2011 ASP World Title will be decided in a "Surf Off".

Event organizers will reconvene tomorrow morning at 7:30am to assess conditions for a possible 8am start.
I've emailed the ASP asking them what a "Surf Off" is since to the best of my knowledge there has never been one before, and am waiting for their response. I asked Kelly Slater's representatives for a comment, and they redirected me to Slater's twitter page. Here are some of Slater's messages from his twitter page.
- "I'm not joking. I have not won the world title yet. I still have to win another heat! Give those shirts and hats back!"
- "Hang on to that KS10 gear if you have some... just in case. Haha."
- "@aspworldtour isn't gonna be happy with me or this but realized last night and confirmed just now with them. Only honest thing to do."
- "In all seriousness, there may be an honest mistake or computer glitch and we're getting to the bottom of it now."
- "@aspworldtour thank you. We all make errors. Maybe I made one going public but on the bright side it will create bigger interest."
Based off Slater's messages, it appears he is the one who discovered the scoring error and not the ASP. Slater seems to be in a jovial mood about the situation and taking the positive out of it. I'll update this story as more news comes. Regardless, it looks like Slater will have to win one more heat or Wright will have to lose in order for Slater's 11th World Title to become official. Chalk this up as perhaps the biggest mistake made in the history of the ASP. Check live.ripcurl.com each morning to find out when the contest will run next. The contest windown for the Rip Curl Pro Search San Francisco runs through November 12th.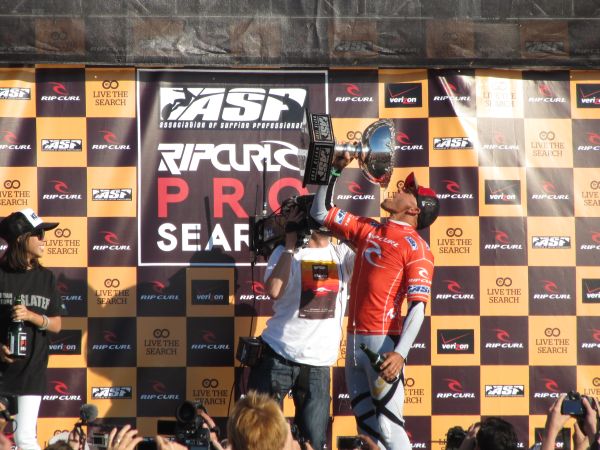 Kelly Slater will likely put some of that champagne on ice. Slater's hold on the ASP World Title trophy is apparently a lease with an option to buy.


Popular in the Community