In massive 10 to 15 foot waves at famed Pipeline, Kelly Slater won his seventh career Pipe Masters title. In an incredible day of surfing, Slater won his 56th career ASP World Tour contest at 41 years of age, defeating Hawaiian charger John John Florence in the Finals.
"It was a strange Final," said Slater. "John John [Florence] and I both waited for a while, and neither of us really got a score until late in the match. I knew it was going to be a sprint, and it was probably a little advantageous not to have priority in the Final, as I was able to go for a lot of waves instead of wait for those that took a while to eventuate."
With tens of thousands of fans packing the beach, it was a historic day at famed Pipeline on the North Shore of Oahu, Hawaii. In addition to the contest victory by Slater, Mick Fanning won his third career ASP World Title when he advanced to the Quarterfinals of the event, thus mathematically eliminating Slater from the World Title chase, and Florence won his second career Vans Triple Crown Title.
The day though belonged to Slater, who won the most prestigious contest in surfing.
"The crowd today is the biggest I have ever seen at Pipe," said Slater. "It's unbelievable. I woke up in the dark and my friend Ross Williams was at my house saying he couldn't even get his bike on the road to ride over here. We're so excited to be here at Pipe, especially when the waves are good. All the people on the beach and online and watching on television make it that much more exciting."
Slater expressed emotion at winning his favorite contest. "Last year, someone asked me what excited me in the end years of my career and I said I would like to surf a Final at Pipe against John John [Florence] so that's pretty special today," said Slater. "To win is even better. I want to surf against the best surfers at the best waves. That's why I'm on tour. I was obviously emotional today, especially after Mick [Fanning] clinched the title in the Quarters. I don't know what happens for me in 2014 but I think that has pissed me off just enough to come back."
Unlike previous years, when Slater left his fans wondering regarding his future status as an ASP World Tour competitor, he didn't leave any doubt that he wants to return for another year to attempt winning an unprecedented 12th ASP World Title.
"Today was one of the most special days in my life," said Slater. "It's a day I have dreamed about since I was a little kid -- big, perfect, West-angled Pipeline and a showdown at the Pipe Masters. If I had stepped away from the sport five years ago, I wouldn't have had today. I want more days like this so I'm definitely back next year."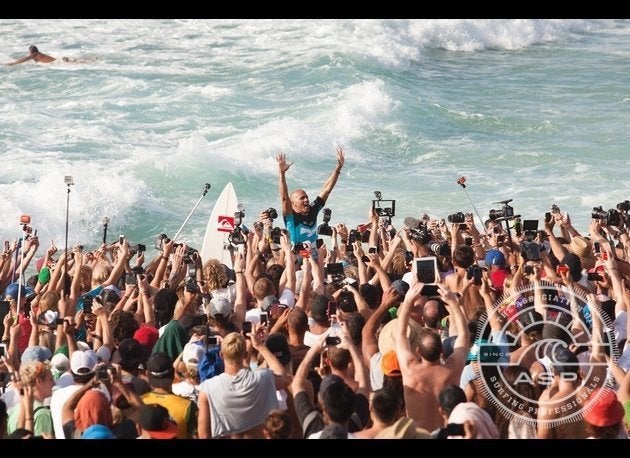 Kelly Slater Wins Pipe Masters
Popular in the Community