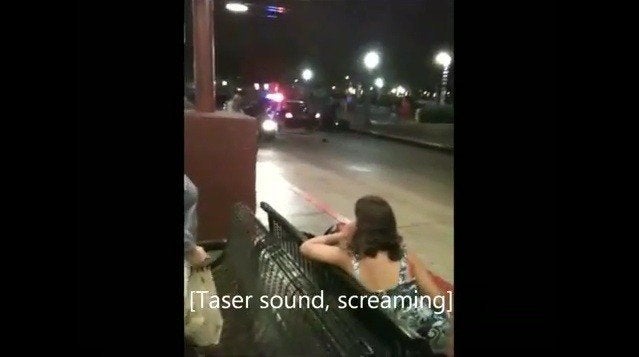 Back in January of 1999, when I was becoming psychically unhinged and thought that I would be assassinated and blamed for a series of murders sweeping the nation, I stumbled over to the local police department after midnight one evening. Perhaps, I was seeking a James Dean moment from Rebel Without a Cause, where the police officer gives Dean's youth a sandwich and a glass of milk, then straightens him out before releasing him to this parents.
No such moment occurred for me. The policewoman behind the desk presented me with nothing other than a chance to stay the night in the only place available -- a jail cell.
When I took a class offered by the National Alliance on Mental Illness in 2010, I was told that the police are now better trained at handling those suffering from mental disorders.
Yet, in July of 2011, Kelly Thomas, who was diagnosed with schizophrenia in 1996 and lived much of his last 15 years on the streets, was beaten to death by the Fullerton police who were responding to calls of a car break-in.
Six policemen subdued Thomas by Tasering him, fracturing the bones in his face, breaking his ribs, puncturing a lung and delivering so many blows to his head that he never regained consciousness. He died at the age of 37 on July 10, five days after the altercation.
Since then, Fullerton Police Chief Michael Sellers has been forced to resign, and three City Council members, who are perceived to have done little to investigate such police brutality, have been the subjects of a recall effort. According to ABC News, activists claim to have gathered enough signatures to hold an election, perhaps as early as June.
As for the officers who beat Thomas, one, Manuel Ramos, has been charged with second-degree murder. Another, Jay Cicinelli, has been charged with involuntary manslaughter, while the other four police officers have been placed on leave. The Orange County District Attorney's Office has reportedly scheduled a preliminary hearing for March 28.
Following the lethal encounter, the Fullerton police claimed that Thomas had broken the bones of two officers, an allegation that has since proved to be untrue, according to the L.A. Times. The police also released a photograph of Thomas from two years earlier, a photo that showed him with unruly hair and a frazzled look on his face.
Nonetheless, a recent report by a police watchdog concluded that attempts by the Fullerton Police Department to depict Thomas as a violent man were not deliberate.
That seems hard to believe. The Fullerton police must have known that the officers did not comport themselves according to the law, and so they sought to malign the deceased. There is little doubt that the officers acted with excessive force. Since when do we need six policemen to arrest and beat a mentally ill homeless man, who was not armed and who had a reputation as a peaceful presence on the streets of Fullerton?
Moreover, at least in the case of Officer Ramos, the intent to harm Thomas appears to have been clear. The Times pointed out that when Orange County D.A. Tony Rackauckas charged the two police officers last September, he said that Ramos had "put on latex gloves and told Thomas: 'These fists are ready to F you up.'"
It is true that more than a decade earlier Thomas had been locked up in an Orange County jail for beating his grandfather, according to a recent article in Orange Coast. But that had been out of character for Thomas, who had otherwise behaved well on the streets, at board-and-care homes, and with his relatives. He had been arrested for such nonviolent infractions as "trespassing, vagrancy, and illegal camping."
Based on the evidence that Rackauckas presented last September, which included the allegation that Officer Cicinelli "Tasered Thomas four times, kneed him in the head twice and hit him eight times with the Taser," there should be little doubt about the need for a trial of the officers, both of whom have pleaded not guilty. One can only hope that a jury will convict the two men, who bullied a defenseless schizophrenic, whose only offense was that he lived on the streets.
REAL LIFE. REAL NEWS. REAL VOICES.
Help us tell more of the stories that matter from voices that too often remain unheard.