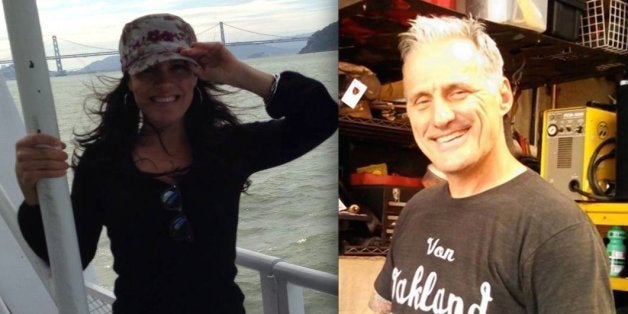 A man stabbed his girlfriend to death during a meet-and-greet vacation with her parents, police say.
Joseph Karr allegedly killed 43-year-old Kelly Turner on Halloween while her family and friends were still in the house, KXAN reports. Turner -- an Oakland-based Southwest Airlines flight attendant -- had brought Karr to her hometown in Austin, Texas to meet her family.
Police say the couple was at a bar with their friends that night. An hour after they got home, some of their friends heard Turner screaming. When they entered the room, they found a blood-splattered Karr holding a knife. He allegedly said, "I can't believe I killed her," and then fled.
When officers arrived after 1 a.m., they found Turner on the kitchen floor with cuts and stab wounds, according to The Statesman. They found Karr, 53, Saturday afternoon in a field in Hays County with self-inflicted injuries. He was charged Sunday morning with first-degree murder.
Shannon flips though pictures of her younger sister, cherishing the memories of the laughter and love they shared.

"That beautiful smile. When she walked into a room she just lit up the room with her smile," Shannon said. "She always saw something good in every person."

Shannon said her sister and Karr flew in from California so he could meet her family. They all had dinner together on Wednesday.

"That was the last time we were together," Shannon said. "I didn't pick up on anything that disturbed me, I noticed he was quiet, he was very quiet."
Like Us On Facebook |

Follow Us On Twitter |

Contact The Author
Related
Popular in the Community