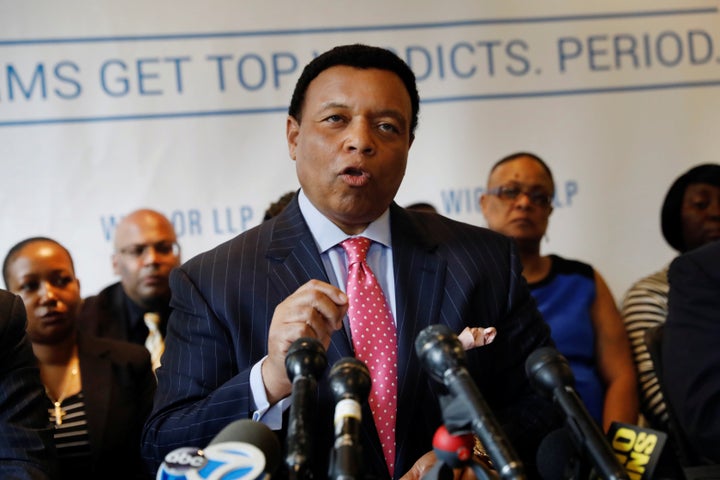 Fox News veteran Kelly Wright, the only black man with an anchor position at the network, on Wednesday emotionally described being demeaned, marginalized, and prevented from advancing in his career due to racial bias.
"This hurts," Wright said at the beginning of his remarks at a press conference, telling attendees that he'd prefer to be behind the anchor desk.
But Wright was speaking out, he said, because Fox News leadership had "lost their way" and "failed to be fair and balanced to all of our employees regardless of race, gender, faith, creed, or color." The network's leaders, he said, "seemed to simply overlook the value of diversity and inclusion in the workplace."
Wright is the most high-profile employee of color to join a growing group of current and former Fox News staffers alleging racial discrimination inside the company. On Tuesday, 11 current and former employees filed a class action suit against the network, parent company 21st Century Fox, Fox News general counsel Dianne Brandi, and former Fox News comptroller Judith Slater.
The class action suit follows a separate lawsuit against the network from two current and former employees, who in March alleged that they'd experienced "top-down racial harassment" from Slater when she ran the payroll department. (Days before the March lawsuit was filed, Fox News announced that Slater had been fired and called her alleged behavior "abhorrent.") Wigdor LLC is representing the plaintiffs in both of those cases. Adasa Blanco, another former Fox News employee, filed a separate suit Tuesday against the aforementioned defendants and an additional Fox News employee, Susan Lovallo.
On Monday, former Fox News host Andrea Tantaros ― who already sued over sexual harassment in August and is currently in arbitration ― alleged in a new suit that the network retaliated against her through illegal electronic surveillance and computer hacking.
The flurry of new allegations this week only raise more questions about whether the Murdoch family-led 21st Century Fox, which promised to clean up the network's culture after the Ailes mess, is actually doing so. Complicating matters, 21st Century Fox is under pressure to convince British regulators it is a "fit and proper" company in order to complete its $14 billion takeover of Sky, a major satellite TV network.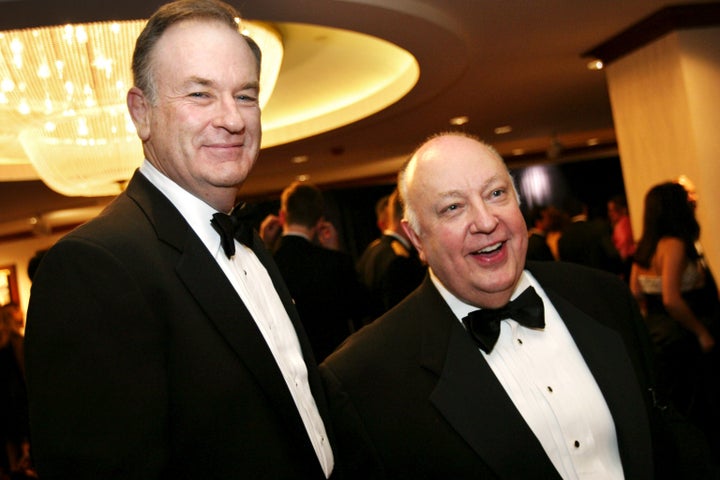 A Fox News spokesperson said on Tuesday that the network would "vigorously defend" itself against the latest allegations.
"Fox News and Dianne Brandi vehemently deny the race discrimination claims in both lawsuits," the spokesperson said. "They are copycat complaints of the original one filed last month."
On Wednesday, 11 of the 13 employees of color represented by Wigdor, most of whom work or worked behind the scenes at Fox News, appeared before reporters and camera crews. Attorney Douglas Wigdor said additional Fox News employees had contacted his firm in the past 24 hours.
"Our clients are here because they have to be here," Wigdor said. "Our clients are here to make sure that their sons and daughters don't have to go through what they did. Our clients are here to give a voice to those who suffer in silence. And our clients are here to hold Fox News and its executives accountable for their actions."
In addition, Wigdor said that "if they don't get their act in gear, 21st Century Fox ought to appropriately rename itself 18th Century Fox."
Wigdor read a list of instances of "abhorrent racist behavior" allegedly committed by Slater ― behavior that his clients say was condoned by Fox News executives despite years of complaints.
According to Wigdor, Slater allegedly made black employees pronounce words for her, such as "mother," father," and "ask." She allegedly suggested that black people were excessively violent, questioned whether black employees' children had the same father, discussed the genitalia of Chinese men, called day laborers "cheap Mexicans," and mocked a cancer survivor, among other claims of mistreatment.
Catherine Foti, an attorney representing Slater, said in a statement Tuesday that the lawsuits are "meritless and frivolous" and that "all claims of racial discrimination against Ms. Slater are completely false."
In a statement following Wednesday's press conference, Foti took issue with Wigdor's "incendiary language" and said the attorney "raising the shameful period of Jim Crow and plantations is outrageous and draws a comparison that demeans the atrocities committed during those times."
Wright, an on-air talent, said the discrimination he faced was "more subtle," yet still "demeaning."
For instance, Wright alleged that O'Reilly rejected his proposal to discuss racial reconciliation on-air amid rising national tensions, instead suggesting Wright offer to sing the national anthem at a Fox News town hall. According to the suit, Wright, an Emmy Award-winning broadcaster, was "effectively sidelined and asked to perform the role of a 'Jim Crow' ― the racist caricature of a black entertainer."
In addition, Wright alleged that O'Reilly declined to air his more uplifting stories on the African-American community because they portrayed black people in "too positive" a light.
Wright said he'd pleaded with Fox News executives over the past decade to allow journalists like himself to "show the accomplishments, contributions and brilliance within America's communities, particularly communities of color."
The intention, he said, wasn't to overlook "the negative situations that do exist within black or Latino communities, but also to show the positive and inspiring people within those communities who proactively strive to right the wrongs and pave the way out of downtrodden and impoverished conditions through education, through faith, through fortitude and forgiveness."
Wright said he's heard all the arguments against working at Fox News, but countered that he has "the right to work there or anywhere in this country, not because of the color of my skin, but certainly because of the content of my character."
This story has been updated to include a statement from Foti.
Related
Popular in the Community