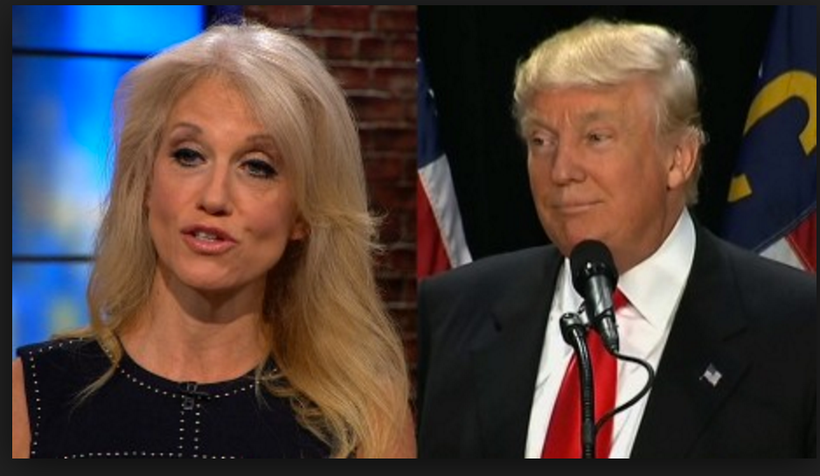 Despite relatively close national polls, Donald Trump is likely to lose, badly. The path to victory given the current electoral map is extremely small. He has gaping hole in support from women. Less than 1% of African Americans support him. He has elicited unprecedented rebukes from within his own party. He has virtually no chance of winning Latino support, his business practices are under assault by the press and he has been ridiculed around the world for his behavior and questionable grasp of facts and world affairs. Time to bring in a woman.
Kellyanne Conway is a smart, respected and incredibly talented political operative who has a stellar reputation in conservative circles. She brings a much-needed professionalism and discipline to the campaign and it's indeed historic and important that she has been appointed as the first woman ever to run a Republican Presidential campaign. And yet, she's been brought in to one of the most controversial and difficult campaigns in history and at a moment of potential failure. She's been asked to do what may be the impossible. She has been hoisted to the top of one of the most dramatic glass cliffs imaginable.
The glass cliff phenomenon was studied and first identified by two British professors, Haslam and Ryan in 2004. They found, that of women appointed to CEO positions in FTSE 100 companies, they were more likely than men to be appointed in times of crisis or at a point of potential failure. It's as if, they found, women were given a shot only when all else failed. Whether conscious or not, company boards seem to see women as the solution when things couldn't possibly be worse. The Glass Cliff gives women opportunity but also sets them up for failure. Or at least, creates the conditions that make failure almost inevitable. It's hard not to see Conway's appointment in this light.
The Glass Cliff phenomenon in no way diminishes the accomplishments or qualifications of the women who assume these roles. To the contrary, they are often exceptionally well-qualified and talented leaders, but they are also more likely to take the fall when the company, or campaign fails. Even though the crises may not have been of their own making – think Marissa Meyer of Yahoo, or Mary Barra of GM.
Donald Trump's approval among women has been abysmal – one of the largest gender gaps in recent history. And he has stumbled from one disastrous choice after another – all of which has led to historic defections of leaders from within his own party and a list of issues too long, and well known, to repeat. It remains to be seen, of course, how he ultimately does in November. But whatever happens, Kellyanne Conway will have given it her all in an effort to help her boss win, or at the least, do better. She will have tried her hardest to save the sinking ship. But she, like many other women groundbreakers before her, may have an impossible task. Only time will tell.
Calling all HuffPost superfans!
Sign up for membership to become a founding member and help shape HuffPost's next chapter
This post was published on the now-closed HuffPost Contributor platform. Contributors control their own work and posted freely to our site. If you need to flag this entry as abusive,
send us an email
.