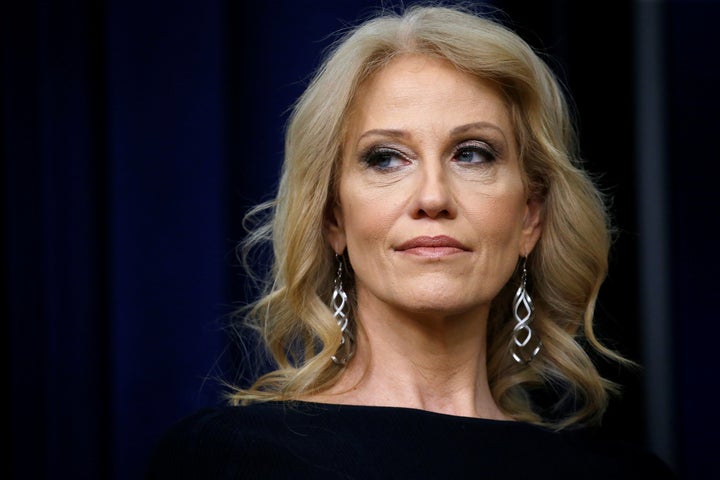 President Donald Trump told reporters aboard Air Force One last month that he didn't know about a $130,000 payment made by his lawyer, Michael Cohen, to porn star Stormy Daniels weeks before the 2016 election. That statement was contradicted last week by another Trump attorney, Rudy Giuliani, who said the president had reimbursed Cohen for the expense.
Speaking on CNN on Sunday, White House counselor Kellyanne Conway claimed there's an explanation for that discrepancy: Trump wasn't telling reporters he didn't know about the payment. He was saying he didn't know about it when it was made.
"In speaking with the president just yesterday, when the president said "No" on Air Force One, he was talking about he didn't know when the payment occurred," Conway told Jake Tapper. "It was a very fast-moving exchange… He's saying he didn't know about when the payment occurred. He found out about it after the fact."
In the Air Force One exchange, Trump was asked, "Did you know about the $130,000 payment to Stormy Daniels?" He responded, "No. No. What else?"
He was then asked, "Do you know where he [Cohen] got the money to make that payment?"
Trump responded, "No. I don't know."
As Tapper noted in his interview with Conway, the president was speaking in the present tense, claiming ignorance.
"That's present tense," Tapper said. "But he did know."
Conway responded by referring Tapper to the president's Twitter feed.
"You have to look at president's three tweets," Conway said. "I'm going to relay to you what the president has told me, which is the best I can do. He didn't know it at the time the payment occurred."
Daniels has said she had an affair with Trump in 2006 after meeting him at a celebrity golf tournament. She signed a nondisclosure agreement and accepted the $130,000 just before Trump won the White House.
What Trump knew about the payment to Daniels is significant because it could comprise an illegal campaign contribution, if Cohen made it in order to protect Trump's candidacy from a damaging news about an affair. Trump has denied the affair with Daniels happened, and Giuliani claims the payment was made to protect Trump's family from an embarrassing story.
Popular in the Community