Kellyanne Conway unloaded on CNN's Dana Bash on Sunday after the White House counselor was asked about her husband's recent tweets appearing to chide President Donald Trump.
Appearing on the cable network's "State of the Union" program, Conway first responded by calmly noting that her husband also tweets "a lot of things about Corgis and Philadelphia Eagles and sports, too," But things quickly took a turn.
"It's fascinating to me that CNN would go there," Conway said. "But it's very good for the whole world to just witness that it's now fair game how people's spouses and significant others may differ with them. I'm really surprised, but very, in some ways, relieved and gratified to see that. That should really be fun."
"You just brought him into this," she scolded Bash. "This ought to be fun moving forward, Dana. We're now going to talk about other people's spouses and significant others just because they either work at the White House or CNN? ... CNN just went there."
Conway accused Bash of trying to "harass and embarrass" her before cryptically commenting on what constitutes a "difference of opinion" between spouses.
"By definition, spouses have a difference of opinion when adultery is happening," Conway said. "By definition, spouses have a difference of opinion when one is, I don't know, draining the joint bank account to support things that maybe the other disagrees with. So this is a fascinating 'cross the Rubicon' moment."
The tense exchange went on for nearly five minutes, with Bash noting that Trump attacked former FBI Deputy Director Andrew McCabe, who was fired last month, because his wife received campaign contributions from groups tied to an ally of Hillary Clinton.
Still, Conway suggested she faces a "different standard" than have past presidential aides and slammed Bash for bringing up her marriage.
"Kellyanne, here was my whole point of this, is that you are a professional working for the president of the United States and your husband is a very well-respected lawyer," Bash said, "and my point is that we don't often see ― in fact, I don't remember the last time we saw ― somebody working for the president in a high-profile position when their spouse is saying critical things about them. That is all."
Conway dismissed Bash's statement, claiming other family members of Trump administration officials "certainly don't support the president privately and publicly."
She continued to rail against Bash hours later, tweeting that the question regarding her husband was "cheap & irrelevant."
George Conway's tweets last month chiding his wife's boss caught the eye of many political and media pundits. On March 23, he retweeted CNN reporter Kaitlan Collins' tweet accusing Trump of repeatedly undermining his aides.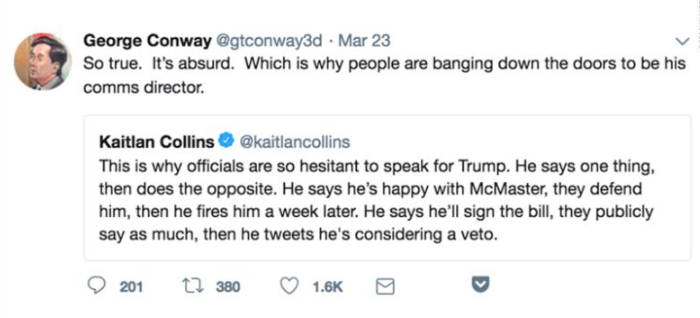 George Conway, who Trump once considered nominating as solicitor general, has since deleted the tweet, as well as several others that were critical of Trump's legal issues.
A representative for the White House did not immediately return HuffPost's request for clarification regarding Conway's "adultery" and "joint bank account" comments. Nor did George Conway respond immediately to a request for comment.
This story has been updated with Kellyanne Conway's Twitter post.
Popular in the Community