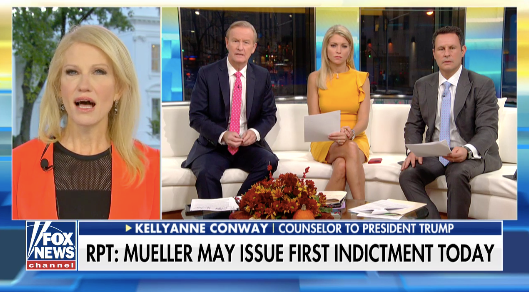 Kellyanne Conway bashed political campaigns on Monday that "dig around with foreign nationals" to uncover dirt on their opponents. But three months ago, reports revealed President Donald Trump's 2016 campaign did just that.
During an appearance on "Fox & Friends," the White House counselor accused Hillary Clinton's campaign of directly financing a secret dossier containing so far unverified allegations about Trump's connections to Russia.
When asked by Fox News' Steve Doocy whether Trump's campaign had financed opposition research during the 2016 election, Conway faltered.
"Uh, so that's very typical," Conway said. "But let me just tell you something: You usually get that from publicly available information. You don't go and dig around with foreign nationals."
Conway appeared to have forgotten all about that June 2016 meeting at Trump Tower in New York between several members of Trump's campaign and a Russian lawyer with ties to Kremlin officials.
Earlier this year, The New York Times reported that the president's son, Donald Trump Jr., set up the meeting with Natalia Veselnitskaya under the impression he would receive damning information about Clinton.
The younger Trump was told in an email from a "trusted intermediary" that Veselnitskaya would provide documents that "would incriminate Hillary and her dealings with Russia and would be very useful to your father." The information promised to be "very high level" and "part of Russia and its government's support" of his father, the emailed noted.
"If it's what you say I love it," Trump Jr. replied within minutes, "especially later in the summer."
Trump Jr. stood by his decision to agree to the meeting, which was also attended by Trump's son-in-law Jared Kushner and Paul Manafort, the campaign chairman at the time. (Manafort on Monday was indicted on several charges stemming from his close ties to pro-Russian officials in Ukraine, including "conspiracy against the U.S.") 
"The information they suggested they had about Hillary Clinton I thought was Political Opposition Research," Trump Jr. said in a statement the same day the Times published its report on the email exchange.
"The woman, as she has said publicly, was not a government official," he continued, "And, as we have said, she had no information to provide ... To put this in context, this occurred before the current Russian fever was in vogue."
Trump defended his eldest son's decision, calling Trump Jr. a "good boy" a few days later.
But Conway apparently doesn't see how any of this was relevant, since Trump Jr.'s meeting didn't come up during her TV spot on Monday. She focused instead on Clinton's alleged link to the Russia dossier, though she claimed she's ready and willing to move onto other topics.
She noted that Clinton has stayed in the news in part because of her book about the presidential campaign, "What Happened," which Conway said is getting covered as if it's "not fiction."
"Look, we would be happy to stop talking about Hillary Clinton and the campaign," she said. "We dispensed with her a year ago, but she just won't go away."
Calling all HuffPost superfans!
Sign up for membership to become a founding member and help shape HuffPost's next chapter