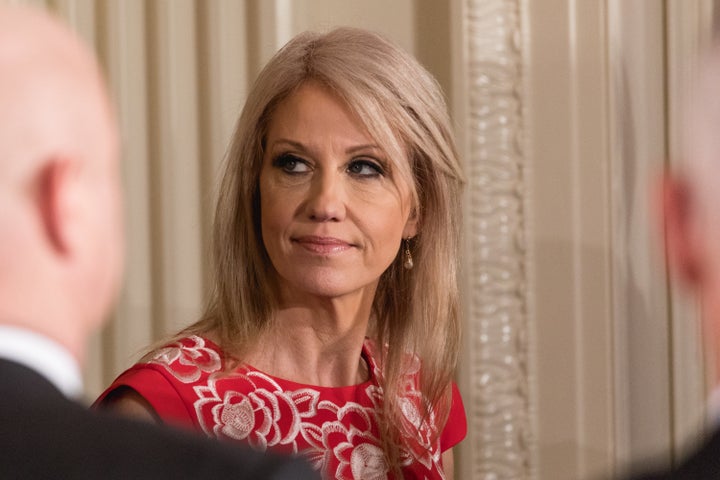 On at least two occasions last year, Kellyanne Conway, a close White House aide to President Donald Trump, violated a law that prohibits government employees from engaging in political campaigns, according to a report published Tuesday by the U.S. Office of Special Counsel.
In a letter to Trump, OSC special counsel Henry Kerner said Conway violated the Hatch Act in two television interviews granted in her "official capacity" in November and December. Kerner wrote that Conway "impermissibly mixed official government business with political views about candidates in the Alabama special election."
The OSC, which is unrelated to an ongoing investigation by special counsel Robert Mueller, recommended that the president take "disciplinary action" against Conway for ethics violations.
The White House did not immediately respond to a request for comment.
In a statement to NBC News, however, the White House denied that Conway had broken any laws, and claimed that her on-air comments "actually show her intention and desire to comply with the Hatch Act ― as she twice declined to respond to the host's specific invitation to encourage Alabamans to vote for the Republican."
The OSC's report concerns interviews that Conway gave to Fox News' "Fox & Friends" and CNN's "New Day" in November and December, respectively. Conway delivered both interviews from the grounds of the White House and was introduced as "counselor to President Trump."
During the interviews, Conway discussed Alabama's special election for U.S. Senate and expressed support for Roy Moore, the Republican candidate in that race.
Moore, a former judge, ran against Democrat Doug Jones, who ultimately won the election as Moore faced allegations of child molestation.
In her November interview with "Fox & Friends," Conway attempted to deter Alabamans from voting for Jones, calling him "weak on crime, weak on borders."
"He is strong on raising your taxes," Conway said of Jones in that interview. "He is terrible for property owners."
Trump, who is not subject to the Hatch Act as president, endorsed Moore for Senate in early December. In a statement to the OSC, the Office of White House Counsel argued that Conway "intended [her] remarks to serve as policy commentary in the context of a broader discussion of the prospects of the President's agenda in Congress, not as advocacy for or against a candidate."
The OSC said Conway has yet to respond to the allegations.
Conway was previously found to have violated federal ethics rules in early 2017 when she endorsed Ivanka Trump's clothing line during an appearance on "Fox & Friends."
"I'm going to give a free commercial here: Go buy it today, everybody. You can find it online," she said.
White House social media director Dan Scavino also violated the Hatch Act last year when he tweeted at Trump supporters to help defeat Republican Rep. Justin Amash (Mich.) in a primary. The OSC said it issued Scavino a warning.
The Hatch Act, established in 1939, aims "to ensure that federal programs are administered in a nonpartisan fashion, to protect federal employees from political coercion in the workplace, and to ensure that federal employees are advanced based on merit and not based on political affiliation," according to the OSC's website. The president and vice president, and a handful of other federal employees, are exempt under the act.
Calling all HuffPost superfans!
Sign up for membership to become a founding member and help shape HuffPost's next chapter