Kellyanne Conway, President Donald Trump's chief counselor, found a unique way to let her husband know how she feels about his public bashing of her boss.
During an interview with Washington Post reporter Ben Terris, Conway complained that her husband's recent tweets about Trump were "disrespectful" and possibly violated their "marital vows," but insisted that she was speaking off the record. She asked Terris to be quoted as a "person familiar with their relationship" ― not as herself.
When Terris asked Conway about her husband's tweets criticizing Trump, she appeared to complain about him candidly before Terris reminded her that she was speaking on the record.
"I told you everything about his tweets was off the record," Conway told Terris.
"No, that's not true. That never happened," he replied, later adding, "We never discussed everything about his tweets being off the record."
"Fine," Conway relented. "I've never actually said what I think about it and I won't say what I think about it, which tells you what I think about it.
The stunning exchange gave the public a rare look into how Conway deals with the media when the news cameras aren't live.
Despite his wife's position in the White House, George Conway, a conservative, began openly criticizing the president on Twitter in 2017 and ramped up his attacks this year. The same week the Post's profile was published, he used an analogy of a lying and scheming CEO to describe Trump's presidency.
Terris' profile of the Conways' marriage paints a picture of a successful couple whose bickering ― usually over the wife's boss, Trump ― straddles the line between playful and personal.
In one exchange between the couple, Kellyanne Conway refers to the Taj Mahal casino, Trump's former Atlantic City, New Jersey, property, as "wildly popular" and her husband replied, "It went bankrupt twice."
In another scene, George Conway said he regretted introducing his wife to Trump, which he did when he passed on an offer to be on the condominium board of the Trump World Tower in Manhattan.
"Knowing what I know now ... I would have said no, and never mentioned it when I got home," he told Terris.
Conway also threatened to "push back" on Terris if his profile on their marriage was "all about" about her husband.
"Nobody knows who I am because of my husband," Conway told Terris later in the profile. "People know of my husband because of me."
Hours after the profile was published on Wednesday, George Conway retweeted a CNN legal analyst who criticized the White House.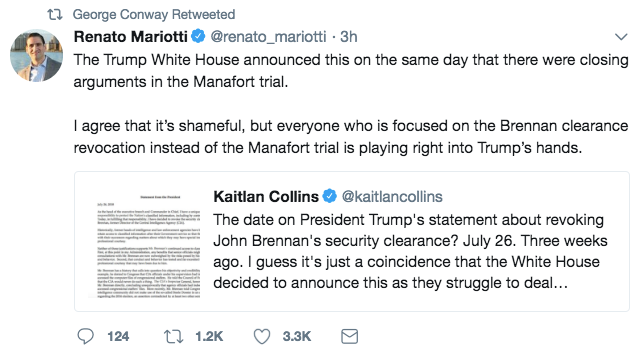 Read the public's response to the Conways' Washington Post profile below.
Popular in the Community