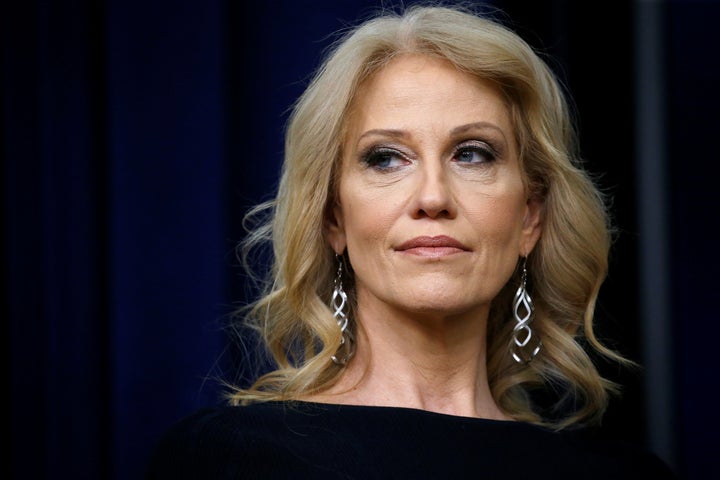 Top White House adviser Kellyanne Conway claimed on Sunday she and other Donald Trump aides dislike the practice of separating children from their parents at the border — but she denied the fact that the controversial situation results from a Trump administration policy shift.
"As a mother, as a Catholic, as someone with a conscience… I will tell you that nobody likes this policy," Conway told Chuck Todd on NBC's "Meet The Press."
Asked repeatedly why Trump doesn't reverse the policy, Conway blamed Democrats for not authorizing funding to build more detention centers and said that children of undocumented immigrants were detained under former President Barack Obama.
The practice of separating children from their parents at border crossing is the result of a "zero tolerance" policy announced in April by Attorney General Jeff Sessions. The goal of the policy is to prosecute as many people as possible for illegally entering the U.S., even if it means separating parents from their children. Sessions has also taken steps to restrict people fleeing gang or domestic violence from seeking asylum in the U.S.
Some Trump administration officials have admitted the policy is aimed at deterring would-be undocumented immigrants or asylum seekers from attempting to cross into the U.S. out of fear that they will be separated from their children. Implementing the policy solely for deterrence purposes, however, has been ruled illegal by U.S. judges.
One Trump administration official told The Washington Post that the harsh separation practices were meant to force Democrats to negotiate immigration laws more in line with the White House's demands.
Asked to defend the use of children as hostages to score legislative wins, Conway distanced herself from the anonymous comment. "I want that person to say it to my face," she told Todd "I'll meet them at the White House today because I think that's a disgrace."
Popular in the Community