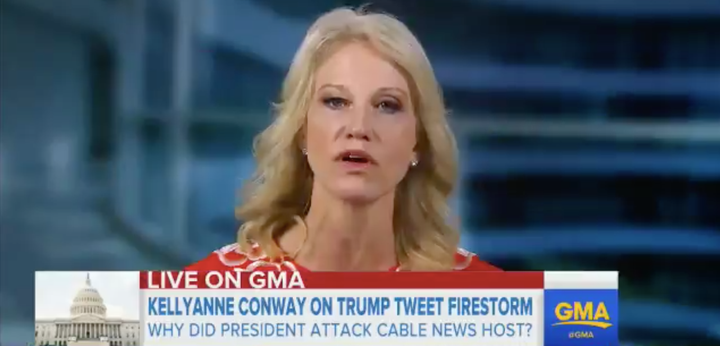 In her usual fashion, Conway pivoted away from host George Stephanopoulos' questions about Trump's behavior, and blamed the media for only covering "personal insults" against Trump. Conway said that when the media only covers these unspecified "personal insults," they're actually "denying" American women media coverage about more important things such as health care and tax reform.
"This is what's going on, the idea that the media are covering — large parts of the media anyway — are covering personal insults about the president," Conway said. "... Really denying America's women their rightful knowledge on what he's doing for them on taxes, on health care, on infrastructure."
"This is somebody who's trying to get those millions of women who lack health care coverage," Conway said referring to Trump. "This is a man trying to get tax relief and entrepreneurship freed up in this country for those American women who want that and it doesn't get covered [by the media]."
Currently, Trump is backing a Senate health care bill that would gut funding to Planned Parenthood, Medicaid and take away maternity coverage for millions of American women.
Popular in the Community