NEW YORK ― Television news executives are beginning to think twice about booking White House counselor Kellyanne Conway for segments over concerns her credibility has been too damaged.
Not all bookers are pulling the plug on putting the close Trump aide on their shows. Her proximity to the president remains a draw despite the dubiousness of some of her claims. But recent statements in which Conway invented a terrorist attack that she blamed the media for not covering, along with citing "alternative facts" when pressed on baseless White House claims, has forced some to reassess her utility on air.
As The Huffington Post reported Friday, the White House did not offer Vice President Mike Pence as a guest on CNN's "State of the Union" even though he was appearing on the four other major Sunday shows. The snub followed a Politico report that the White House was "freezing out" CNN, which Trump increasingly attacks for being "fake news." A CNN spokeswoman said the White House offered Conway as a substitute, but the network declined.
On Sunday night, New York Times columnist Jim Rutenberg wrote that CNN didn't only turn down Conway because of the Pence factor, but also due to "serious questions about her credibility" inside the network.
CNN sources insisted to HuffPost on Monday that the White House's refusal to offer Pence was the reason for rejecting Conway as a guest on "State of the Union." But more broadly, sources said there has been a reluctance to book Conway because of credibility issues. The network declined to comment.
Conway has been mocked over the past week after citing the "Bowling Green massacre," a nonexistent terrorist attack, as justification for President Donald Trump's executive order barring entry to citizens of seven majority-Muslim countries. "Most people don't know [about the massacre] because it didn't get covered," Conway said Thursday on MSNBC.
It actually didn't happen. Though two Iraqi nationals living in Bowling Green, Kentucky, were arrested in 2011 for plotting to send money and weapons to al-Qaida operatives in Iraq, there was no attack.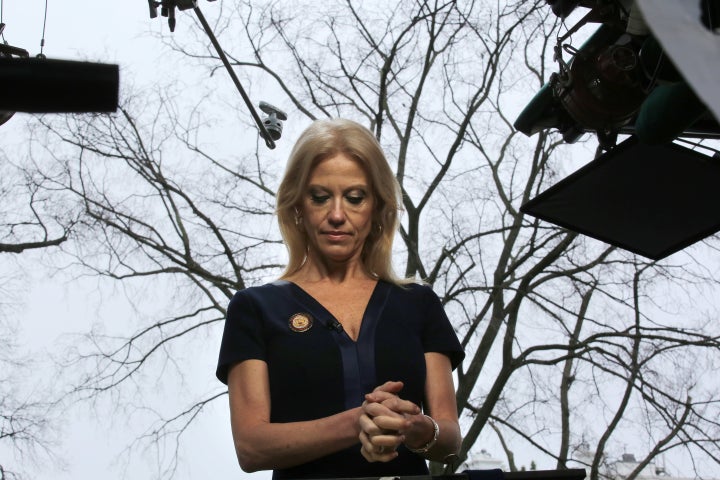 Conway said Friday on Twitter that she made an "honest mistake" and said Sunday on Fox News that she "misspoke one word." However, Cosmopolitan revealed Monday that Conway had also referred to the "Bowling Green massacre" in an earlier interview with the magazine, and the White House counselor cited the "Bowling Green attack" in an interview with TMZ.
Conway also recently defended the White House's bogus claims about Trump's inauguration crowd size by suggesting they had "alternative facts," an Orwellian term that similarly inspired mockery and raised serious concerns that the Trump administration was attempting to create its own reality to justify its actions.
One of Trump's most dogged television surrogates during the campaign, Conway has remained a familiar face in TV news studios since he won the presidency. The Washington Post recently reported that Trump "respects her on-camera ability to dodge, defuse and deflect whatever comes her way."
But critics have questioned networks continuing to book Conway over remarks such as the "Bowling Green massacre." In addition, NYU journalism professor Jay Rosen argued last month that the rationale for turning to Conway as a surrogate falls apart when her responses are contradicted by Trump, thereby only confusing viewers about the White House's position.
The question of booking Trump aides following dubious or false claims was hashed out Sunday on CNN's"Reliable Sources," with NY1 host and CNN commentator Errol Louis arguing that Conway shouldn't be kept off the air.
"There's no part of our job that — doing it responsibly at least — that involves shutting out people who are an important pipeline to the center of power in America," Louis said. "That's not what we do. We're not here to pick and choose who's worthy of being heard and who's not. If if this is the source of information that you're going to get, even if its fake or false or its spin, you've got to adapt to that."
While CNN executives may have some concerns about Conway's credibility, the network is still planning to book her. She's scheduled to appear Tuesday on "The Lead," an afternoon program hosted by Jake Tapper, who also hosts Sunday's "State of the Union.
Indeed, Conway indicated in a tweet Monday that she'd be appearing on CNN during the week and claimed she wasn't turned down as a guest for "State of the Union" because she wasn't available in the first place.
CNN's public relations department quickly fired back.
In an email, Conway told HuffPost that someone who handles White House bookings may have reached out to CNN regarding Sunday's "State of the Union." But Conway reiterated that either way she was unavailable due to a family commitment. She appeared Sunday on Fox News' "MediaBuzz," but that interview was taped Friday.
Shortly after CNN's response, MSNBC host Mika Brzezinski jumped into the fray with a cryptic response to both the network and Conway: "You are not the first." Some interpreted Brzezinski as suggesting "Morning Joe" had also declined to book Conway.
Brzezinski did not respond to a request for a clarification on a tweet.
Support HuffPost
The Stakes Have Never Been Higher
Related
Popular in the Community