White House counselor Kellyanne Conway sent a warm Valentine's Day tweet to a white nationalist Twitter user on Tuesday ― and then deleted the message, claiming she didn't know who had access to her own Twitter account.
It was far from the White House' worst moment this week, but it added to the impression of confused bumbling.
Earlier that day, Conway had appeared on NBC's "Today" show dodging questions about the resignation of national security adviser Michael Flynn. Host Matt Lauer told her she was making "no sense."
Conway tweeted in her defense that she "serves at the pleasure" of President Donald Trump and "his message is my message."
In response, Twitter user Lib Hypocrisy praised Conway for her "strength & resiliency in face of vile hatred, bigotry, & sexism of the unhinged Left."
"Love you!" Lib Hypocrisy wrote.
Conway nevertheless retweeted Lib Hypocrisy's message and wrote, "Love you back." She also wished her "hapless haters" a happy Valentine's Day.
When contacted by BuzzFeed, Conway blamed her tweet on someone else, saying she didn't know "who had access to my account."
"I denounce whoever it is," she said, calling the tweet "terrible" and saying she would delete it.
"Everybody makes mistakes," she said.
The tweet was deleted, but not before it was preserved in screenshots across Twitter. Conway had also "liked" the tweet by the Lib Hypocrisy account and has not yet un-liked it.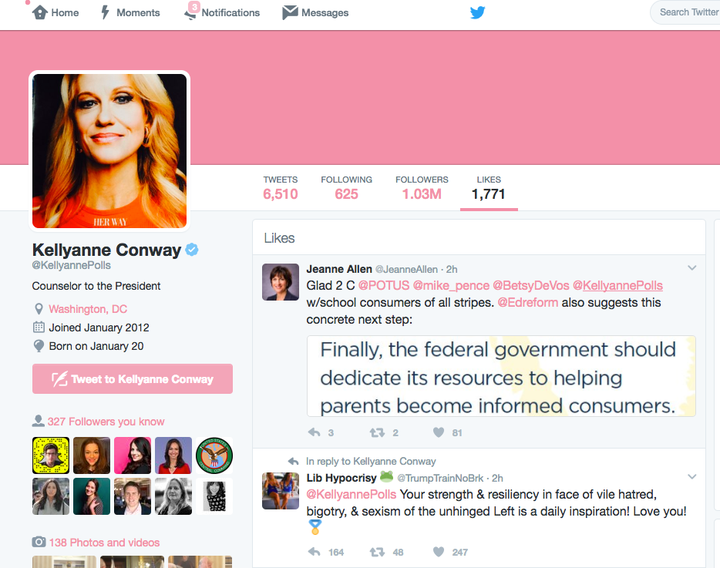 Neither Conway nor the White House responded to HuffPost's request for comment as to whether anyone else actually has access to Conway's Twitter account, and whether he or she would be fired or reprimanded.
Conway has a history of offering up "alternative facts," a phrase she famously coined last month while defending blatant falsehoods on live television.
On Tuesday morning, across a series of news shows, she had declared that Flynn resigned of his own volition, a claim that was contradicted hours later when White House Press Secretary Sean Spicer said Trump had asked Flynn to resign. Earlier this month, she cited the "Bowling Green massacre," a non-existent terror attack, as justification for Trump's executive order barring travel from seven Muslim-majority countries.