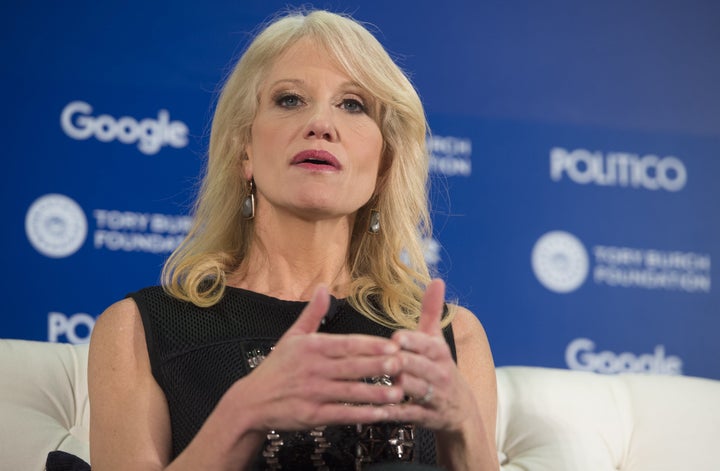 Conway did not, as some twisted media reports claimed, say that mothers generally shouldn't work at the White House. Nor did she play the "woman card," as one opinion columnist in The Washington Post tried to argue.
But what she did say at "Women Rule," a conference hosted by Politico, signals that the environment for women in the Trump administration will be difficult. Men are the ones who rule in Trumpland, which adheres to "traditional" male-female roles when it comes to work and family. Modern notions don't seem to apply.
Conway, who turns 50 on Inauguration Day, has four children under the age of 12 at home and a husband who works full time as a litigator at a prestigious law firm. Her choice makes sense. It's also possible her comment was just an elegant ― and classic ― way to dump Trump. Leaving a job to "spend more time with family" is a time-honored politician dodge.
Conway noted on Wednesday that Trump works all the time. "It's a mystery to us when he actually sleeps," she said, according to Politico. And although there are more and more opportunities for women in government and politics, she said there are limits to what women can do if they have kids.
Then things get even more sad.
She recalled discussions about what role she could play in Trump's administration, remarking that senior campaign officials would say, "I know you have four kids but …"

"I said there's nothing that comes after the 'but' that makes any sense to me so don't even try. Like what is the but?" she said. "But they'll eat Cheerios for the rest of the day? Nobody will brush their teeth again until I get home?"

"And I do politely mention to them the question isn't would you take the job, the male sitting across from me who's going to take a big job in the White House. The question is would you want your wife to," she continued. "Would you want the mother of children to? You really see their entire visage change. It's like, 'Oh, no, they wouldn't want their wife to take that job.' But it's, it's all good."
It's not all good, Kellyanne!
There are other ways these senior officials could've fielded your question. They could have said: "Kellyanne, if my wife had the opportunity to work in a powerful position in the White House, I'd scale back my career for a few years and support her and take on more of the burden at home. Maybe your husband can do that."
Or, maybe they could say, "Kellyanne, you've been a key member of the team. We will make sure you get the flexibility to make this work."
Instead, their apparently uniform reaction makes it clear that in Trumpland, the burden of parenting always falls on the mother. She will always be the one to pull back at work. The idea that a mother could perhaps share parenting responsibilities with a partner or, god forbid, look to social policy for support is not on the table.
There is only one table. Men sit at it. The end.
This way of thinking is at the core of why U.S. women haven't achieved anything resembling equality in the workplace. On average, women still make 80 cents for every $1 earned by a man. Women ― who make up half the population ― hold only 20 percent of the seats in the U.S. Congress. And while women hold nearly 52 percent of professional jobs in the U.S., there are only 21 female CEOs in the Fortune 500. That's 4 percent.
Trumpland thinking is what the Obama administration had been working to change both with policy ― efforts on equal pay and paid leave, for starters ― and within the White House itself.
Conway's comments are a flashing red sign ― a state essentially banning abortion because of the new administration is another ― that winter is coming for the women of this country.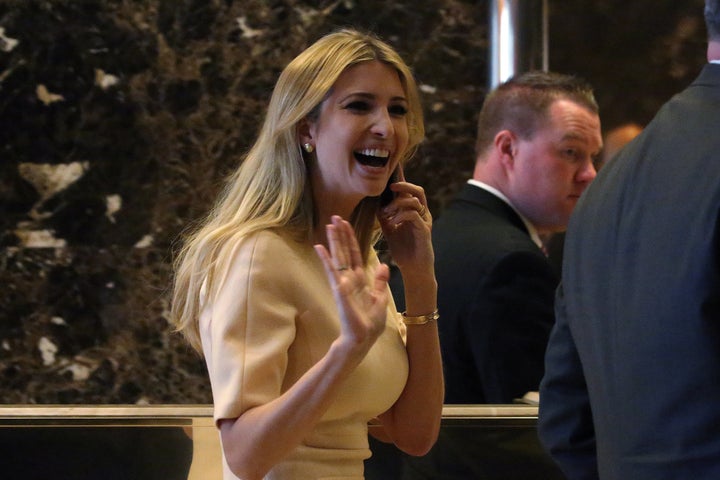 Of course, this shouldn't be surprising. But it is, a little. Yes, Trump is the guy who bragged about grabbing women by the pussy because he can. And he has insulted women's looks at every turn.
Based on some of his older interviews, he also seems to think parenting is women's work.
"There's a lot of women out there that demand that the husband act like the wife, and you know, there's a lot of husbands that listen to that," he said in a 2005 radio interview that BuzzFeed unearthed.
"I mean, I won't do anything to take care of them. I'll supply funds and she'll take care of the kids. It's not like I'm gonna be walking the kids down Central Park," Trump said in an interview with Howard Stern that same year.
Yet, Trump has also tried to portray himself as someone who advances women in the workplace. His website has a page titled "Donald J. Trump's History of Empowering Women," which was posted in October and offers anecdotes about how Trump encouraged and supported the women in his organization.
His daughter Ivanka Trump also likes to market herself as a champion for #womenwhowork ― or at least women who make enough money to buy office apparel from her clothing line. And it was heartening that Conway, the first woman to run a Republican presidential campaign, had such a high-profile role.
But her comments Wednesday were deflating.
Conway lives in the wealthy enclave of Alpine, New Jersey, with her kids and her husband, a partner and litigator at Wachtell, Lipton, Rosen & Katz. It's safe to assume he works nonstop. Her hesitation to do the same makes complete sense.
Anyone with young children can tell you raising kids is a full-time job. A draining, once-in-a lifetime, crucially important job. And if you want to work and raise a family ― or if you need to work, as so many American women do ― you have to make hard choices.
That's particularly true in the U.S. We live in a country that offers working families essentially no support. No paid maternity leave. No paid sick leave. A school day that ends in the middle of the workday. A horrifying daycare system. Countries that offer these benefits see the percentage of women entering the workforce go up. The U.S. is pretty low on the list of countries with high female labor force participation. The lack of support helps reinforce the gender pay gap, particularly at the top where the difference between what men and women earn is widest.
These were not big issues for Trump on the trail, although Ivanka mentioned them at the Republican National Convention.
Crucially, the workplace was structured by and for men ― although it's changing somewhat ― and is rooted in the understanding that men will give their all to their job while someone else watches the kids. "Someone else" is typically the mom, of course.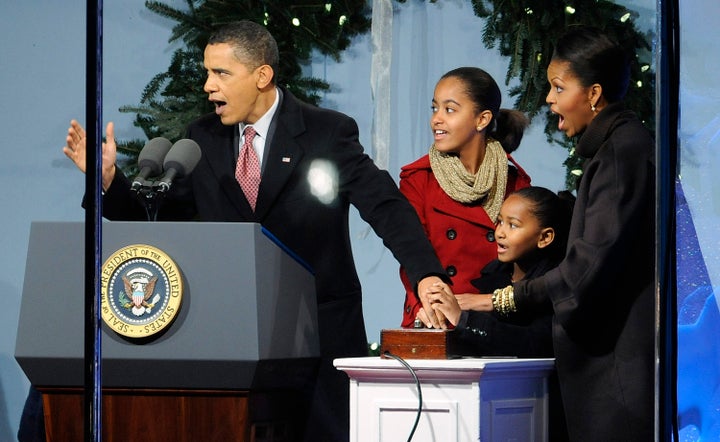 Now, the Obama administration understood this and made these issues a priority. There was a real effort at the policy level to advance the U.S. in terms of supporting working families. And although working parents in the White House didn't have it easy, they were supported. President Barack Obama himself famously stopped working at 6:30 p.m. most nights so he could eat dinner with his kids.
Valerie Jarrett, a senior adviser to Obama and an outspoken advocate for changing how we think about work and family, later told the audience at the Politico event that she saw Conway backstage and tried to change her mind.
"There are a lot of women who did raise young women in the White House," Jarrett said. "I think tone starts at the top."
Related