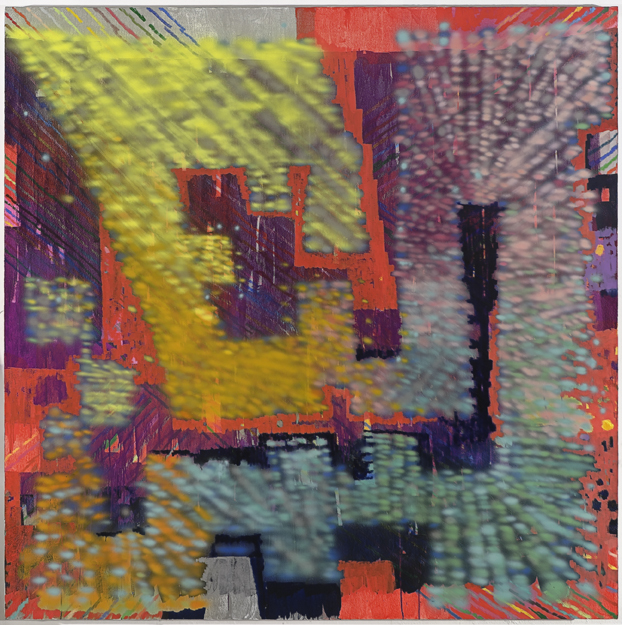 ¡|!, 2011, Oil, acrylic, oil pastel & sprayed paint on canvas
80 x 80 Courtesy of the artist, Keltie Ferris
Part of the Not Dead Yet series, below are 10 Questions for artist Keltie Ferris
Keltie Ferris (born in 1977, Louisville, KY) lives and works in Brooklyn, NY. She received a MFA from Yale University, inNew Haven, CT and a BFA from the Nova Scotia College of Art and Design, in Nova Scotia, CA. The artist made her New York solo debut with Horton Gallery (SUNDAY) in 2008 and has been featured in two solo exhibitions, two two-person exhibitions, a group exhibition and four art fairs, including a solo presentation at the NADA Art Fair, Miami and a two-person presentation at The Armory Show, New York.
Why do you use these particular materials?
I was drawn to spray paint because it's a frictionless way to paint-- it helps me be dynamic. I found that I could get more exciting, more intense color if I sprayed oil paint that I mixed myself, rather then the canned aerosol paint. So I've switched back to mostly using oil which I spray with a gun.
Name an artist you'd like to be compared to.

Mick Jagger and Matisse would be my dream team, but I don't see that comparison happening anytime soon.
What can't you live without?
A ton of time alone in my studio painting.
What jobs have you done other than being an artist?
It might be easier to say what I haven't done: I never had an office job. But I shelved books, waited tables, built theater sets. I assisted a metal sculptor and worked at a plastics factory. And I've taught painting and drawing.
What forms first in your mind, a concept or a skill you want to explore?
I work from a color idea, and from my own drawings and previous paintings.
Does where you live influence your work?
New York looms large in my imagination, no matter where I am.
Is there any kind of media that affects the way you approach your work (i.e. film, TV, radio, social networking, print)?
Antique video games and textiles seems to make their way into my work, without my trying to put them there. I'm interested in pixelation and embroidery, and any way of broken, textured seeing. My paintings' only relationship to photographic medium is that they sometimes are blurry from spray. They almost have a depth of field.
What's the most important career break, you ever got?
The whole point of being an artist is to not have a career, so I don't use that word. My most important lucky break was surviving a bad bike wreck last year.

What are the fundamental beliefs that drive the way you work?
Work shouldn't feel like work, it should be something more like a need.

What comes first in your work, pleasure or pain?
Always pleasure, and then anxiety is sure to creep in later.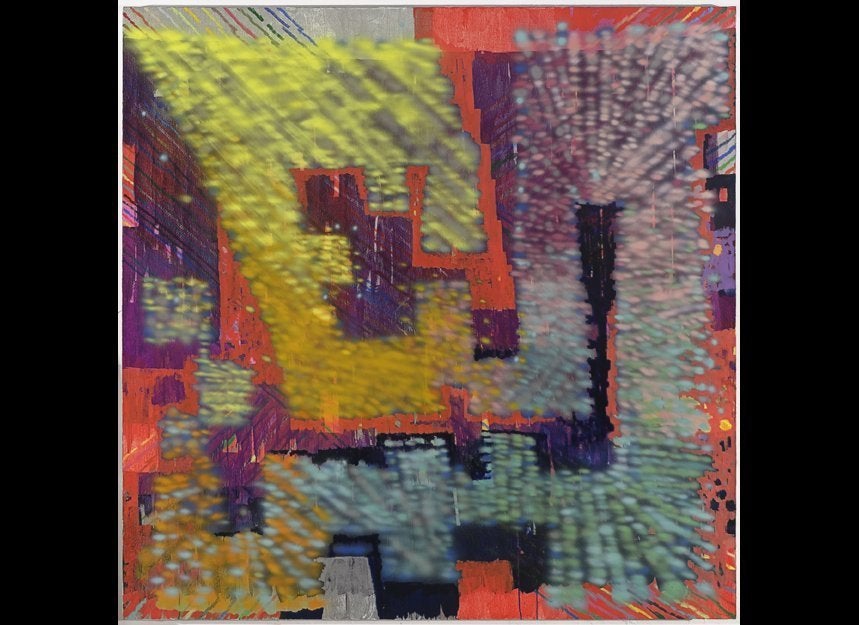 Broken Textured Seeing: the Work of Keltie Ferris
Related
Popular in the Community