 E! News chief correspondent Ken Baker has received quite a bit of backlash after he made some controversial comments about Taylor Swift and Miley Cyrus.
The 42-year-old TV personality took to Twitter last week to comment on the sexual reputation of the young pop stars:
"The @mileycyrus and @taylorswift13 matchup. Agree? Tweet me. http://instagr.am/p/TMi-Izuc41/," he wrote on Dec. 13. posting a graphic he found online comparing Swift and Cyrus: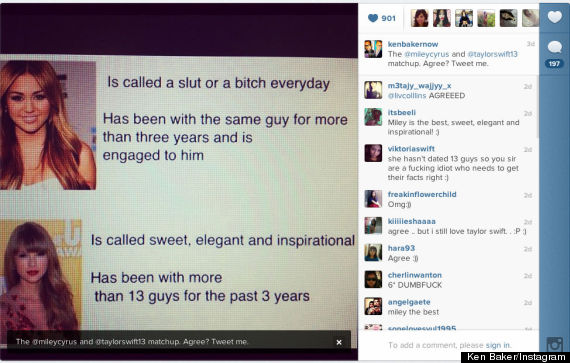 Not surprisingly, Baker's comments attracted plenty of attention, including Cyrus'. She responded to his tweet, writing: "@kenbakernow haha :) this made laugh. thanks for making me smile I needed it love u kb"
Baker responded to the backlash via Twitter, writing, "I didn't realize how many warped ppl are on Twitter until I decided to stand up for @MileyCyrus. #godblessthebroken"
Baker is a entertainment journalist who has authored a novel about obsessive teen fan girls -- the love lives of young pop stars are his expertise. But his tweet, which attracted the attention of Cyrus, is more problematic then a grown man criticizing the romantic choices of 20-something singers — it's his attempt to manufacture a celebrity feud where it simply didn't exist.
After his initial tweet, Baker then wrote that he would be discussing the "T-swift/Miley tweet heat" on TV. Cyrus herself was quick to try to stop a feud before it started, telling Baker, "haha there is no tweet heat! Don't go trying to make this look like I started any kinda drama. I laughed because I know people are idiots and call me a SLUT when I am engaged at 20 cuz I'm madly in love with ONE man. Just happy someone admitted it"
Baker tried to defuse the backlash on "Live From E!" claiming he simply thought it was interesting graphic, since he feels Cyrus is unfairly portrayed in the media, and he also took the time to clarify that Swift is young and should date a lot of people.
Requests made by The Huffington Post for comment from Ken Baker have not been returned at this time.
Calling all HuffPost superfans!
Sign up for membership to become a founding member and help shape HuffPost's next chapter
BEFORE YOU GO