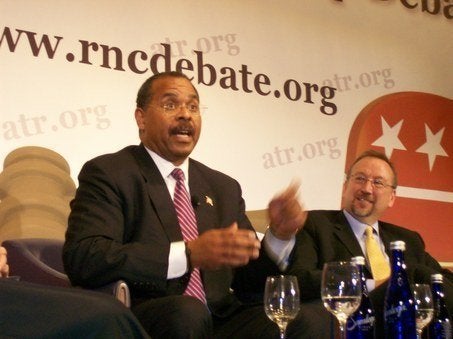 RNC Chairman hopeful Ken Blackwell has apparently begun a robocall campaign to help persuade enough committee members to elect him to the top post.
Individuals have reported receiving automated calls from Blackwell that come in the form of a brief questionnaire but then ask the recipient to contact a Republican National Committeeman on Blackwell's behalf.
In the script, apparently, Blackwell also refers to himself as "articulate and effective."
But robocalls, usually, are an ineffective way to get voters to the polls or to persuade them to vote for or against a specific candidate. As a way of encouraging phone calls on one candidate's behalf, they seem likely to be even more futile. But they are cheap. And in a six-way race for the next RNC chair, each candidate is looking for the most leverage he can get.
Already, Blackwell has the backing of some prominent conservative figures, including Tony Perkins, Steve Forbes and Ed Meese. He and his fellow RNC Chair candidates are in the midst of several forums and debates over the direction of the party.
A call to his office for comment was not returned.
Popular in the Community