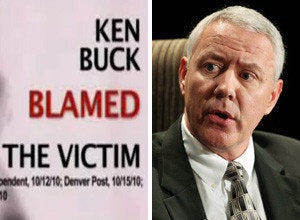 The Democratic Senatorial Campaign Committee is up with a new ad in Colorado, a harsh spot that goes after Republican Senate nominee Ken Buck on women's issues.
"We've been using birth control for decades, but Ken Buck supported making common forms of birth control illegal," a narrator says towards the beginning of the ad.
The commercial continues, moving on to abortion. "Ken Buck wants to make abortion illegal, even in the most dire circumstances," the voice continues.
The ad then hits on an alleged rape case that Buck decided not to prosecute. Buck later said that a jury could see her accusations as a case of "buyer's remorse." In the commercial, the narrator moves on to the spot's harshest text. "Ken Buck refused to prosecute a rape case, even though the attacker confessed. The victim says Buck blamed her." On the screen, large text says, "KEN BUCK BLAMED THE VICTIM."
Each line is punctuated with a woman saying, "He doesn't get it." The ad closes with the narrator responding, "So let's make sure we don't get Ken Buck."
Support HuffPost
The Stakes Have Never Been Higher
Popular in the Community