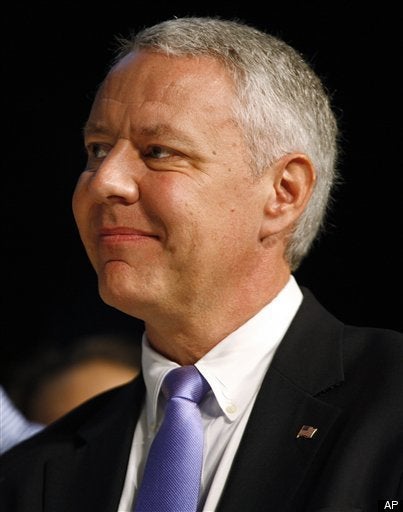 In the latest twist to a story that seemingly won't disappear, it appears Ken Buck does have issues with comments made by supporter Tom Tancredo at a rally last Thursday.
Speaking at a campaign picnic for Buck, a Republican candidate for Senate, right-wing firebrand Tancredo told supporters that he believed Barack Obama constituted a greater threat to the United States than al-Qaeda or the Soviet Union. (Watch video below)
The comments raised eyebrows around the country, and Buck quickly distanced himself from Tancredo's screed.
The story became complicated, however, when Buck's opponent, Jane Norton, actually defended Tancredo's remarks, saying in a Facebook status update that there is "a real measure of truth" in what Tancredo said.
Norton's campaign has characterized the hotly contested Senate primary as a race to the right.
Norton's endorsement of Tancredo's comments forced Buck to walk back his initial rejection of the remarks, also saying that there's "a lot of truth" to them. Buck qualified his defense of Tancredo by saying "the greatest threat folks is not a single man, but rather the progressive liberal movement that is going on in this country," Buck said on Saturday.
Now Denver's KDVR has obtained an audio clip from Friday, the day after Tancredo made his comments about Obama, in which the candidate seems to laugh off and disregard the former congressman's statement. "I can't believe that guy [Tancredo] opened his mouth," Buck said, referring to the previous day's rally.
WATCH: Tancredo's comments:
Calling all HuffPost superfans!
Sign up for membership to become a founding member and help shape HuffPost's next chapter