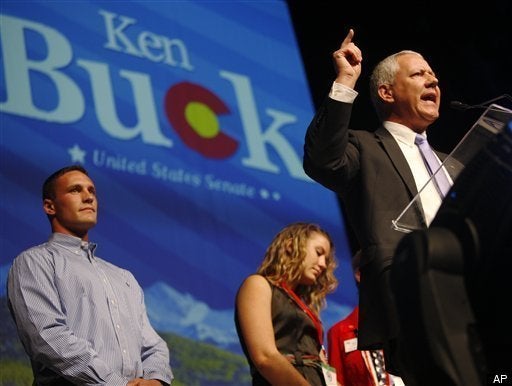 Colorado Republican Ken Buck is a darling of the Tea Party movement, and he has admitted that this constituency was "huge" to his success over establishment candidate Jane Norton in the state's U.S. Senate primary. In recent months, however, he has changed his website, moderating some of his more controversial policy positions.
AFGHANISTAN: In the earlier version of Buck's website, accessed on May 18, the Senate candidate said that he supports a nation-building effort in Afghanistan that will take "at least 10 years":
My son is a third year cadet at West Point. I'm very proud of my son's decision to serve his country. He understands the risks involved. He also understands there is a price for freedom in this country and he's willing to stand up and shoulder that burden. For so many of our brave men and women today, that means shouldering the burden in Iraq and Afghanistan.

We definitely need to continue a major effort in Afghanistan. We are told this effort will take at least 10 years. It will require both military and civilian personnel to help build up the country. The generals on the ground tell us we are likely to be in Afghanistan for the long term with a difficult and complicated mission.

As Colorado's Senator, I will always look first to the advice of the generals, and I will strongly support the mission of our troops who are in harm's way.
I am proud of my son Cody, a fourth year cadet at West Point. The contributions made by all the men and women who serve in the military around the world so we can enjoy our freedoms at home will always be reflected in my priorities.

I will fight for a strong national defense and to ensure our military members, veterans and their families receive the benefits and care they have earned.
I believe in the value of life and and support policies that promote respect for life. Based on my upbringing, my faith and my life experiences, I believe life begins at conception. I oppose abortion except to protect the life of the mother.

As a District Attorney, I have fought to protect the lives of the born and advocated for the lives of the unborn.

I believe Roe v. Wade was incorrectly decided. As your U.S. Senator, I will sponsor a Constitutional Amendment to protect the life of the unborn. I will vote to confirm only those judicial nominees who respect the intent of America's founders as enshrined in our U.S. Constitution.

Congress should not support federal funding of abortion or embryonic stem cell research or organizations that promote either.
As a father of two, Ken believes in the value of life and is opposed to abortion except to protect the life of the mother. As U.S. Senator, Ken will oppose federal funding of abortion and will fight to protect the life of the unborn.
IMMIGRATION: The early version of Buck's site advocated "sealing our borders to illegal traffic, both north and south and at our ports" and warned about the growing problem of identity theft from undocumented immigration:
How can we be a strong country if we can't control our borders? How can we be a strong country if we can't deal effectively with the problem of illegal immigration? The answer, of course, is we can't. We should start the path to immigration reform by finally sealing our borders to illegal traffic, both north and south and at our ports. Then we must enforce the laws that are already on the books to deal with illegal immigration.

The federal government has not been effective in protecting our borders and addressing the issue of illegal immigration. What the federal government has done is shift the burden of enforcing these laws to the county level.

One of the growing problems flowing from illegal immigration is identity theft. Weld County, my home county, is unfortunately no stranger to the crime of identity theft. The Federal Trade Commission ranked Weld County fourth in the country for identity theft cases in 2006, third in 2007 and 11th in 2008. We are working hard to deal with this problem but it will continue to grow until we get serious about dealing with illegal immigration.

We need to have a finely crafted guest worker program that is sufficient to meet the needs of our economy. I believe we can do that and still get serious about dealing effectively with the larger illegal immigration problem.
As Weld County District Attorney, I have a strong record on controlling illegal immigration. I believe we don't need new laws to deal with the problem. We need the backbone to enforce the laws that are on the books.

Securing our borders should be a top priority in controlling illegal immigration and protecting our country against terrorist threats.
The current version, which appeared on at least July 26, still talks about undocumented immigration, but it also discusses encouraging "legal immigration" and making sure immigrants aren't "forced into the shadows of our society":
The immigration system in our country is broken. We need to revamp the system so that we can ensure it is a safe, viable option for those wanting to migrate legally into our country.


First, we have to secure the border to stop the flow of illegal immigration. It is essential to our security that we curb the number undocumented immigrants coming into our country.


Second, we need to establish a program that will help make legal immigration a feasible option. This will allow legal immigrants to fill jobs that American labor cannot fill.

Finally, we need to stand firm and say 'no' to amnesty. Illegal immigrants must return to their country of origin to enter the United States with respect to our laws. This will ensure that immigrants receive the proper protections of law and not be forced into the shadows of our society.
His position on Afghanistan, however, has changed. Sometime in "late June," Buck spoke with The Denver Post about whether the "current strategy is the right strategy in Afghanistan." He said it was "for a short period of time," but that "overall we have to get out of the nation-building business." "The idea that we are going to create a Western-style democracy in Afghanistan is pure folly," he added. "We're not going to get that done in 10 years, in 50 years. And we're going to lose thousands of lives and we're going spend billions of dollars."
As the Huffington Post's Sam Stein has reported, Buck has made a name for himself with his "tough take on immigration policy". He supports Arizona's controversial immigration law and backs changing the 14th amendment's citizenship clause to exclude children of undocumented immigrants, although he has attempted to distance himself from some of the more extreme rhetoric by people like Colorado GOP third-party candidate Tom Tancredo.
In a mid-July profile, USA Today noted that Buck seemed to be "sliding to the center" in an effort to sidestep "some of the furors that have trailed other Tea Party-backed Senate contenders."
Another Tea Party favorite, Nevada's GOP Senate candidate Sharron Angle, also redid her website this summer and removed mentions of her support for abolishing the Department of Education, having Social Security "transitioned out" to the private sector and repealing legislation prohibiting offshore drilling.
The Huffington Post contacted the Buck campaign but did not receive a response.
*************************
What's happening in your district? The Huffington Post wants to know about all the campaign ads, debates, town halls, mailings, shenanigans, and other interesting campaign news happening by you. E-mail us any tips, videos, audio files, and photos to election@huffingtonpost.com.
Calling all HuffPost superfans!
Sign up for membership to become a founding member and help shape HuffPost's next chapter