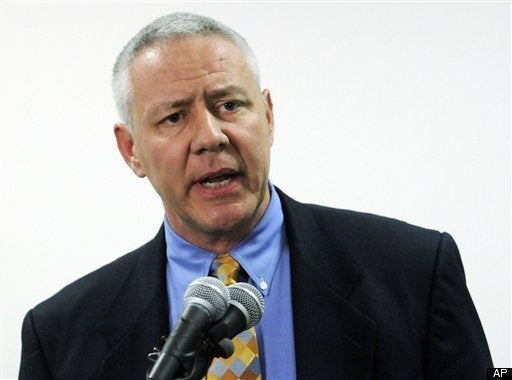 A Tea Party-backed Senate candidate in Colorado was caught on tape Friday referring to 'birthers' who question President Obama's citizenship as "dumbasses." Republican Ken Buck, who has harnessed Tea Party support to become the front-runner for the GOP Senate nomination, made the comment unsolicited to a Democratic staffer after an event in Pueblo, Colorado.
He was unaware that the conversation was being recorded.
"Will you tell those dumbasses at the Tea Party to stop asking questions about birth certificates while I'm on the camera," Buck said to the staffer. "God, what am I supposed to do?"
Buck told the Denver Post he regretted the language he used, but maintained that he has become frustrated by so-called 'birthers' who question the validity of Obama's birth certificate.
Buck said he considers 'birthers' to be a distraction.
"After 16 months of being on the campaign trail, I was tired and frustrated that I can't get that message through that we are going to go off a cliff if we don't start dealing with this debt," Buck said.
Buck's Republican opponent, Jane Norton, was quick to capitalize on the comments, calling Buck, "two steps short of a fraud."
"He's a self-proclaimed Tea Partier who trashes tea partiers when he thinks no one is looking," a Norton spokesman said in a statement.
LISTEN: ('Birther' comments start at 3:15)
Calling all HuffPost superfans!
Sign up for membership to become a founding member and help shape HuffPost's next chapter