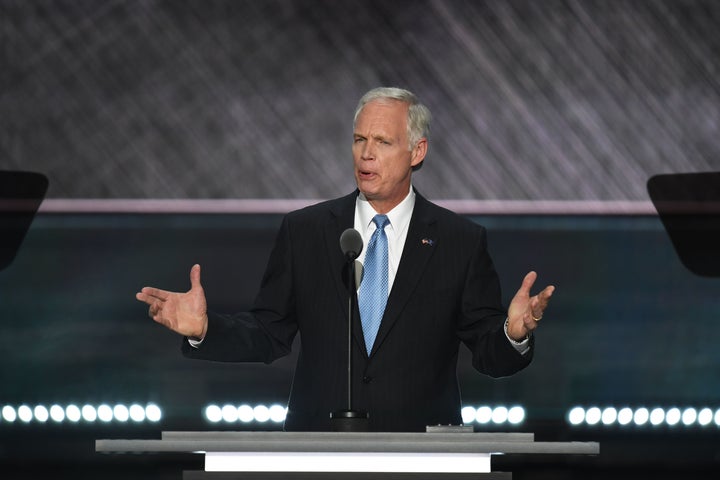 WASHINGTON ― Sen. Ron Johnson (R-Wis.), who last week said students would learn more from a Ken Burns documentary than from a teacher, once tried to defund PBS, the TV network that has aired the filmmaker's work for decades.
Johnson joined an unsuccessful push to eliminate federal funding for public broadcasting in 2012, two years into his first term. He signed a letter authored by then-Sen. Jim DeMint (R-S.C.) and Rep. Doug Lamborn (R-Colo.), calling on appropriations leaders to push legislation that would defund public broadcasting, including PBS.
"We face many hard choices ahead, but defunding the Corporation for Public Broadcasting should be one of the easier decisions to make," the letter stated. "We simply cannot afford to continue funding all of the programs that we have in the past."
Burns, the Emmy Award-winning filmmaker whose work includes "The Civil War" and "Jazz," has produced many documentaries since 1981 that aired exclusively on PBS ― Public Broadcasting Service.
Watching Burns' work, Johnson argued last week, is the way to break up the "higher education cartel." Johnson's campaign did not respond to a request for comment on whether the senator still supports defunding PBS. 
The Corporation for Public Broadcasting is the nonprofit overseer of the federal government's investment in public broadcasting, which includes PBS and NPR ― National Public Radio.
DeMint and Lamborn also introduced legislation in 2012 to defund PBS and NPR via the Corporation for Public Broadcasting. The bill went nowhere, but proponents did pass a measure requiring the Corporation for Public Broadcasting to research alternative funding sources for public broadcasting stations.
"Without the federal appropriation, the public broadcasting system as we know it will not survive. For $1.35 per American this service leverages additional operating revenue from a variety of sources in communities across the country. Compare this entrepreneurial public-private partnership to the almost total funding provided by other countries for their public broadcasting service—in Canada it is $22.48 per citizen, for Japan $58.86, for the United Kingdom $80.36, and for Denmark it is $101 per citizen." 
The debate reached a fever pitch in 2012, after then-Republican presidential candidate Mitt Romney said he, too, supported defunding PBS, but had nothing against Big Bird. 
If PBS lost its federal support, as Johnson wanted, Burns would need to find a new outlet for his work. That may not be difficult. But it may mean that fewer students would have access to his documentaries. Those whose families can't afford cable TV might be out of luck. 
Johnson is up for re-election. Polls show his challenger, former Sen. Russ Feingold (D-Wis.), who lost the seat to Johnson in 2010, ahead by roughly 10 points. (Only two polls have come out since July.)

REAL LIFE. REAL NEWS. REAL VOICES.
Help us tell more of the stories that matter from voices that too often remain unheard.