During a Tuesday appearance on CNN's "Crossfire," former Virginia attorney general and gubernatorial candidate Ken Cuccinelli (R) said New Jersey Gov. Chris Christie should step down from his post as chair of the Republican Governors Association amid the so-called Bridgegate scandal.
When asked by cohost Van Jones if it's "fair" for Christie to remain chairman while a federal investigation is underway, Cuccinelli suggested the Republican governor is distracting from the party's goals in a key election year.
"I think just from the perspective of setting aside this as an issue in other races, it makes sense for him to step aside in that role," Cuccinelli said. "He does not serve the goals of that organization by staying as chairman. That doesn't mean any of the charges, political or otherwise, are substantive or not. It doesn't matter, perception is reality."
Watch Cuccinelli's remarks above.
Christie is currently embroiled in a growing scandal surrounding his aides' decision to close access lanes to the George Washington Bridge as apparent payback for a Democratic mayor who declined to endorse Christie during his reelection bid. The scandal has been further complicated by Hoboken Mayor Dawn Zimmer's claims that Christie's administration threatened to withhold recovery aid after Superstorm Sandy if she did not support a lucrative real estate development.
Cuccinelli's remarks may be his own small-scale form of political retribution.
Back in November, NBC's Chuck Todd reported that Christie had declined to campaign with the tea party-backed Cuccinelli:
I heard from one Republican source who said, "Where was Chris Christie?" In fact, saying that they made an effort -- apparently some senior conservative Republicans reached out to Christie and asked him to come down to Virginia and campaign for Cuccinelli and Christie said no. So, it's -- that's sort of the way you feel this is going to play out...it's a lot closer than Republicans thought. A lot of Cuccinelli supporters are a little bit bitter right now looking at the result, thinking, "What if?"
Cuccinelli was narrowly defeated in the 2013 race by former Democratic National Committee chair Terry McAuliffe.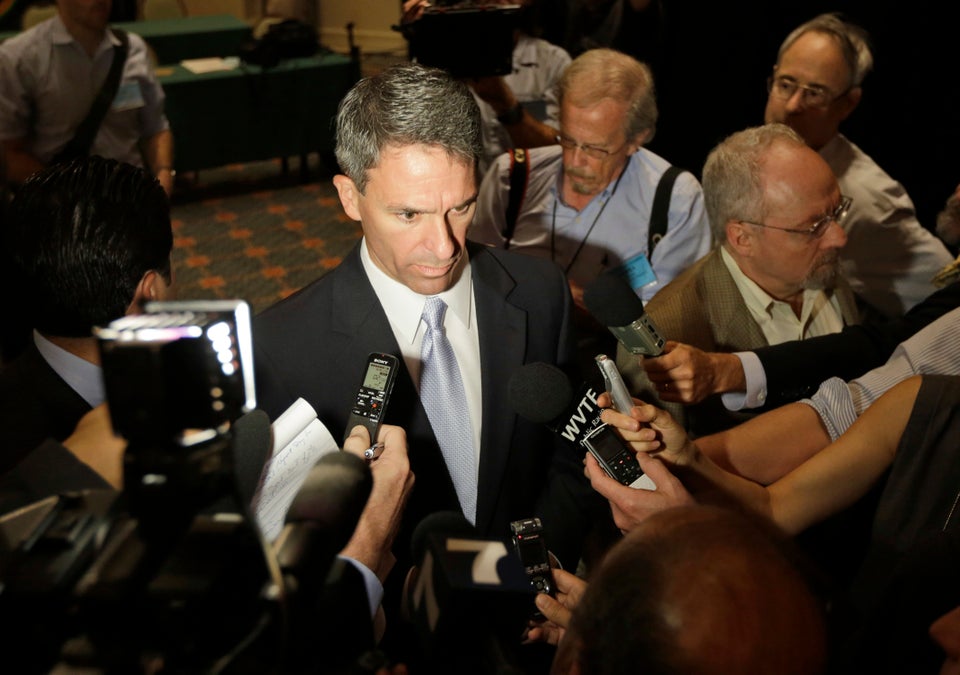 Ken Cuccinelli Through The Years
Popular in the Community