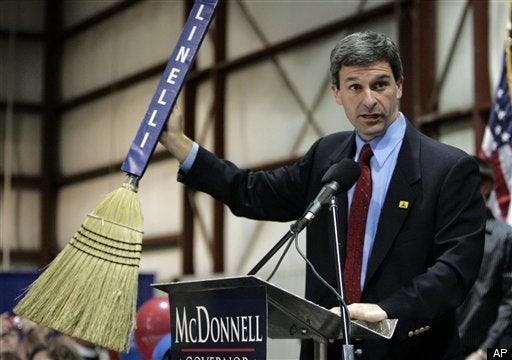 In a move that has been called McCarthy-esque, Virginia Attorney General Ken Cuccinelli has ordered the University of Virginia to give to him scads of documents relating to former professor Michael Mann's work at the school. According to the Washington Post, Cuccinelli hopes to find out whether or not Mann was involved in taxpayer fraud while trying to obtain grants for climate change research.
The investigation has riled party lines, though mainly between politicians and professors. The Post has more:
The actions by Cuccinelli (R) -- who has sued the federal government over its regulation of greenhouse gases and has become a leading national voice in alleging that scientists have skewed data to show evidence the Earth is warming -- were cheered by those on the right, who have long targeted Mann as a leading proponent of the theory.

Mann's work has been repeatedly targeted by global warming skeptics, particularly after an e-mail from him referring to a statistical "trick" he used in his research surfaced in a series of leaked e-mails from the University of East Anglia's Climatic Research Unit. Mann has said the e-mail was taken out of context, and an inquiry by Penn State concluded that there was no evidence Mann has engaged in efforts to falsify or suppress data.

Mann and several academic groups decried Cuccinelli's subpoena as an unprecedented inquisition that could threaten academic freedom.
Cuccinelli defended the inquiry, saying that all it needs to be sorted out is "honesty." He hopes to discover if there were any "knowing inconsistencies" in Mann's work and grant requests while he jockeyed for taxpayer research funds.
Mann, who left UVA in 2005 for Penn State University, claims Cuccinelli is running a smear campaign against him.
Related
Popular in the Community