ANNANDALE, Va. -- Attorney General Ken Cuccinelli took the stage Sunday afternoon at a candidates' forum in his home county to tell local business owners why he should be the state's next governor. He offered a tour d'horizon of policies on job creation, education, energy, criminal justice and taxes.
But he avoided talking about one thing: the government shutdown.
Just before, his Democratic opponent, Terry McAuliffe, pinned the blame for the shutdown right on Cuccinelli.
"Ken Cuccinelli was apparently more concerned about his reputation with the tea party than with ending the government shutdown that is undermining Virginia's economy," he said at the event hosted by three minority Chambers of Commerce at Northern Virginia Community College. "It is the obligation of Virginians to send a message to Washington -- a government shutdown should never be a bargaining chip." His supporters went wild, while the other half of the room fell silent.
Virginia is an early test for how the government shutdown could impact Republicans in the 2014 elections. The state's unusual off-year elections put a referendum on the party's governance a mere four weeks away. The state is disproportionately reliant on government spending to fuel its economy, having almost 145,000 federal workers, even more contractors, and other industries that depend on federal workers having money in their pockets, like restaurants and shops. If voters repudiate Republicans in a low-turnout election without President Barack Obama on the ballot, then it may portend for future Republicans.
Cuccinelli said over the summer there would be "less to worry about" with more Ted Cruzes in the Senate, but the Republican senator from Texas has apparently had the opposite effect on his campaign. On Saturday, Cuccinelli spoke for ten minutes and left early from a Family Foundation Gala in Richmond where the two appeared. Cuccinelli also avoided photographs with Cruz, and did not take questions from the press. Cruz, for his part, fulsomely praised Cuccinelli in a 54-minute speech, calling him "smart," "principled," "fierce" and "fearless."
Democrats have siezed on this connection. Cruz and Cuccinelli are among the most outspoken opponents of the health care law. Both Republican politicians also cast aside more "moderate" Republican lieutenant governors who were next in line for a higher office, with Cuccinelli edging out Bill Bolling and Cruz beating David Dewhurst in the Texas Senate primary.
"How does Cuccinelli suddenly not be a full-throated supporter of the tea party? He was the first to sue Obamacare. He's championed the tea party causes. He's gone to their rallies. He's been to their convention. He's their hero -- as is Ted Cruz. All of a sudden -- I barely know the man?" Rep. Gerry Connolly (D-Va.) told reporters. "The shutdown is going to stick to him like a fly sticks to flypaper."
"Last night Ken had an opportunity to stand up for Virginia jobs, to tell the Texas senator to stop hurting Virginia's economy with his shutdown," McAuliffe said in his speech. "Instead, he didn't stand up -- he was silent."
Cuccinelli countered that he had spoken with Cruz in an aside to tell him to get it resolved. "I talked to him when he was done taking his photos with all the folks there, and told him how much we were hoping this would be over soon and urged him in that direction," he told reporters, charging that Senate Majority Leader Harry Reid (D-Nev.) had been blocking bills funding parts of the government.
He also tried to throw the charge of shutting down the government over Obamacare back at his opponent, arguing that because McAuliffe previously said he won't sign a Virginia budget as governor unless it includes a Medicaid expansion in the state, he is also threatening a shutdown.
"My opponent has said he'd shut down the Virginia government by not signing a budget if he didn't get his Medicaid expansion," Cuccinelli told reporters. But when a the federal government shutdown was looming at the end of September, McAuliffe flatly responded in a debate, "No budget will be shut down in Virginia over the Medicaid expansion."
State Republicans have argued that the shutdown is not their problem to deal with. And in the narrow sense, Cuccinelli cannot force the federal government to reopen. But he has stoked much of the anti-Obamacare rhetoric that has led to the government shutdown. He was the first to challenge it as unconstitutional, and even suggested that people might have to "go to jail" to oppose the law's mandate for contraception coverage.
"It is a federal government shutdown. I'm running for governor," Cuccinelli told reporters. But even with the federalist argument, he acknowledged that it had an effect.
"I think when people elect a governor, they care about state issues. But in Virginia, the spillover across the Potomac is pretty darn substantial; I mean that's just a reality of life in Northern Virginia and Southeastern Virginia," Cuccinelli said.
One Republican running for the Virginia House of Delegates, Patrice Winter, said she had noticed that reality in her campaigning.
"I've knocked on about a thousand doors a month, and people kind of get confused -- they come to the door and they're angry," she told The Huffington Post, adding that the anger usually dies down after she clarifies that she's running for state, not federal, office.
Another Republican running for office, state Sen. Mark Obenshain, put even more distance between himself and the shutdown in his campaign for attorney general. He is no supporter of Obamacare either -- he told the Washington Post in June that he "absolutely" would have challenged it in court and was "stunned" by the Supreme Court decision upholding the law.
"I'm not a supporter of the government shutdown. I don't believe it's going to change Harry Reid's mind or the president's mind -- I didn't believe that," Obenshain told HuffPost.
Before You Go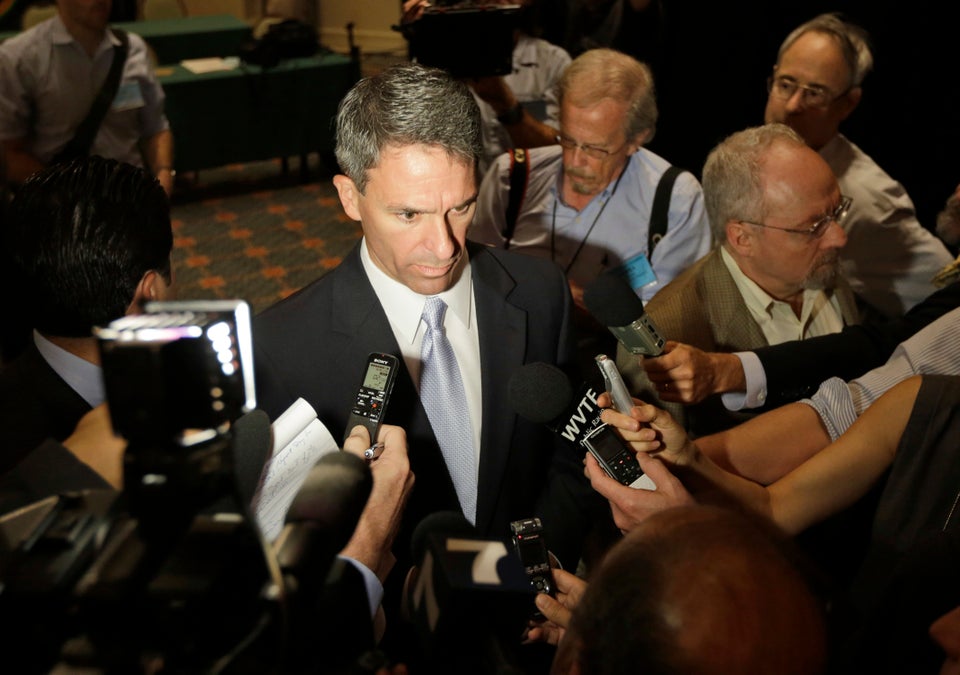 Ken Cuccinelli Through The Years
Popular in the Community