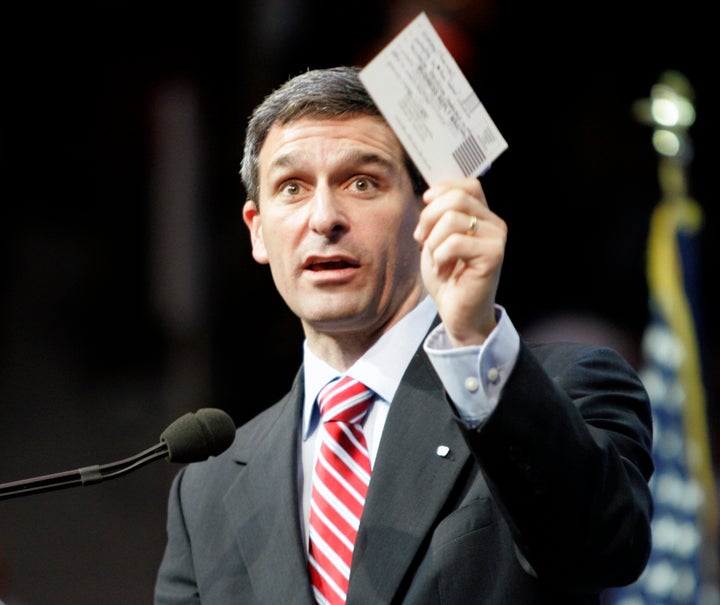 WASHINGTON -- Virginia Attorney General Ken Cuccinelli (R) is terminating his office's relationship with law firm King & Spalding after the firm decided to drop its defense of the controversial Defense of Marriage Act (DOMA) last week.
"King & Spalding's willingness to drop a client, the U.S. House of Representatives, in connection with the lawsuit challenging the Defense of Marriage Act (DOMA) was such an obsequious act of weakness that I feel compelled to end your legal association with Virginia so that there is no chance that one of my legal clients will be put in the embarrassing and difficult situation like the client you walked away from, the House of Representatives," Cuccinelli wrote to firm partner Joseph Lynch in a letter obtained by the Washington Examiner.
King & Spalding Communications Director Les Zuke told The Huffington Post that the firm does not comment on client representations. An inquiry to Cuccinelli's office was not immediately returned.
Shortly after the firm announced that it would no longer take the case, Paul Clement, former solicitor general under President George W. Bush and the partner charged with leading the firm's defense, submitted his letter of resignation and announced he would be going to a smaller firm and would continue to represent the House Republicans.
According to the letter, Cuccinelli said: "Virginia does not shy away from hiring outside counsel because they may have ongoing professional relationships with people or entities, or on behalf of causes that I, or my office, or Virginia as a whole may not support. But it is crucial for us to be able to trust and rely on the fact that our outside counsel will not desert Virginia due to pressure by an outside group or groups."
"Virginia seeks firms of committment, [sic] courage, strength and toughness, and unfortunately, what the world has learned of King & Spalding, is that your firm utterly lacks such qualities," he added, according to the Washington Examiner. He also said that the firm would not be able to reapply for special counsel status for the state of Virginia as long as he was attorney general.
The House took up the defense of DOMA after Attorney General Eric Holder said the Justice Department would no longer be defending it in federal court after concluding that the law is unconstitutional. But he added that they would not object if Congress chose to defend it. Both Holder and the White House have said they have no problem with House Republicans' decision to hire former solicitor general Paul Clement to defend DOMA.
King & Spalding faced intense criticism from LGBT rights organizations after taking on the case, and one source inside the firm told The Huffington Post that there was "mayhem" and people threatening to quit.