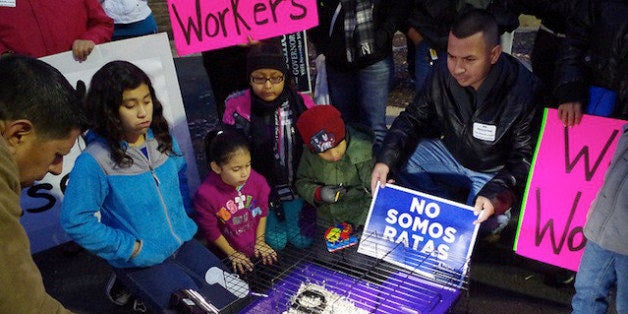 Dozens of immigrant rights activists in Virginia marched on Monday to the campaign office of Republican gubernatorial candidate Ken Cuccinelli, carrying real and plastic rats to protests past comments he made in which they say he compared immigrants to rats.
Carrying a cage with three real rats and a box with about 200 plastic rats, the activists marched to Cuccinelli's campaign office in Sterling, Va., where they dropped off the rats. They also carried signs with various messages, such as "We are human" and "We're not rats."
The protest, organized by the advocacy group NOVA ¡Presente!, came on the same day Sen. Marco Rubio (R-Fla.) campaigned with Cuccinelli in the final day of the Virginia governor's race. The gubernatorial election will be held on Tuesday.
Gloria Moran, a U.S. Citizen originally from Guatemala, said the protest is meant to "show Ken Cuccinelli that comparing immigrant families to rats and backing laws that treat immigrants like rodents will not go unpunished."
"Today I marched to Cuccinelli's office and delivered him a rat," Moran said. "Tomorrow, I will most certainly not deliver him a vote. Virginia's immigrants and their supporters will deliver their ballots to the candidate who understands that immigrants are hard-working Virginian families."

Noah Feldman, one of the lead organizers with NOVA ¡Presente!, expressed confidence that Cuccinelli will lose the race for governor of Virginia, saying that "Cuccinelli and those who come after him will not get away with disrespecting an entire community and expect to win."
A Washington Post/Abt SRBI poll released last week shows Democratic gubernatorial candidate Terry McAuliffe with a 12-point lead over Cuccinelli. The poll shows 51 percent of likely voters said they are voting for McAuliffe and 39 percent said they're casting their vote for Cuccinelli.
Ken Cuccinelli denies he compared immigrants to rats
Cuccinelli's office has insisted that he never compared immigrants to rats and that his remarks, which he made during an interview last year with a conservative radio show, were taken out of context.
During the 2012 radio interview with "The Morning Majority," Cuccinelli critiqued Washington, D.C.'s Wildlife Protection Act of 2010. He claimed the law, which is considered one of the toughest wildlife laws in the nation, protected rats from being killed.
Here's part of the transcript of that interview:
Cuccinelli: What you may not know is that last year, in its finite wisdom, the D.C. City Council passed a new law, or a triumph of animal rights over human health, where those pest control people you suggested they bring in aren't allowed to kill the rats. They have to relocate the rats and not only that — that's actually not the worst part — they cannot break up the families of the rats. Now, as actual experts in pest control will tell you, if you don't move an animal at least 25 miles, it'll come back. And so what's the solution to that? Well, cross a river.

Host: Send 'em over to Virginia, that's right.

Cuccinelli: Guess why I care about that sort of thing?

Host: I bet.

Cuccinelli: Anyway, it is worse than our immigration policy — you can't break up rat families. Or raccoons or all the rest and you can't even kill them. It's unbelievable.
It's unclear what Cuccinelli meant by his reference to immigration policy. Still, the Democratic Party of Virginia began running a Spanish-language ad in October, saying the Republican gubernatorial candidate "compared immigration policy to exterminating rats."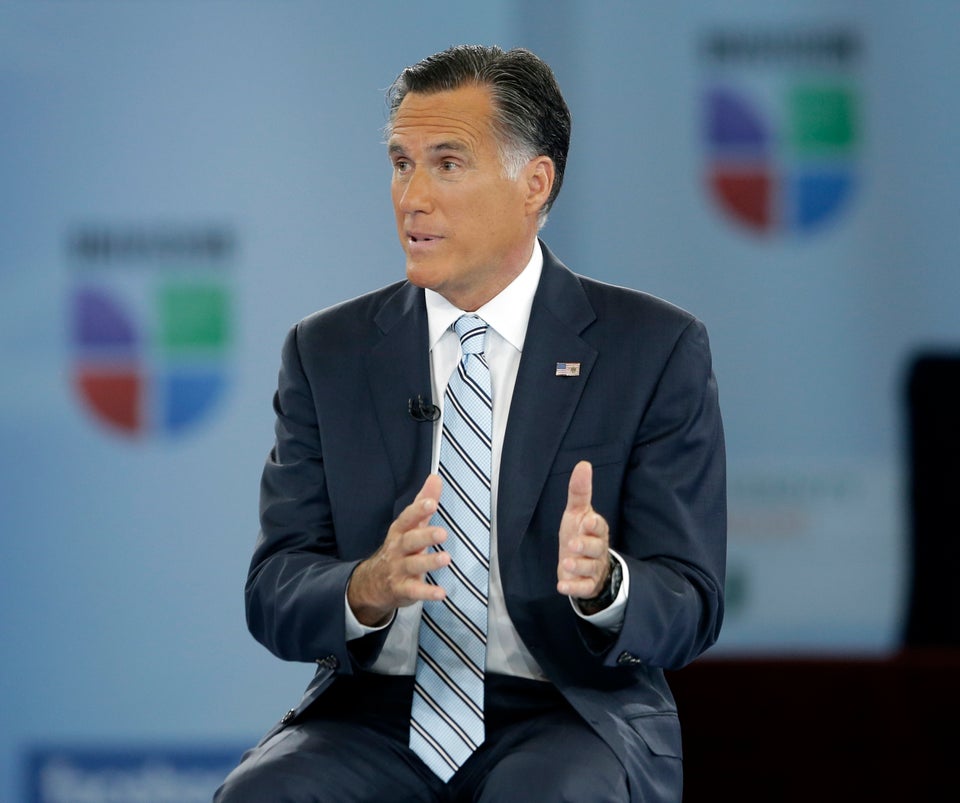 Dumbest Commentary About Latinos In 2012