 WASHINGTON -- Virginia Attorney General Ken Cuccinelli, the GOP's 2013 gubernatorial candidate, filed a petition Tuesday with the U.S. Supreme Court seeking to uphold Virginia's anti-sodomy law.
Cuccinelli wants the court to reconsider a March 2013 decision by the U.S. Court of Appeals for the 4th Circuit striking down the state's "crimes against nature" statute. The 4th Circuit ruled that the law did not pass muster in light of the Supreme Court's 2003 Lawrence v. Texas decision, which struck down the latter state's anti-sodomy law as an unconstitutional criminalization of Americans' sexual conduct. The Virginia law, however, remained on the books.
The 4th Circuit ruled in favor of William Scott McDonald, who was convicted in 2005 at age 47 under the Virginia statute for soliciting a 17-year-old girl to commit sodomy. That law broadly makes oral and anal sex a Class 6 felony. While such laws historically targeted gay men, they have also been used against heterosexual activity.
The three-judge panel ruled that an unconstitutional law could not be used to convict McDonald. It added that the Virginia Legislature could pass another law to criminalize sexual conduct specifically between a minor and an adult. The Lawrence ruling applied only to consensual adult conduct.
Cuccinelli's petition argues that given the Lawrence decision's application only to consenting adults, the Virginia law can stand as applied to contact between minors and adults.
The Supreme Court effort could have implications for Cuccinelli's battle for the governorship against Democrat Terry McAuliffe. Cuccinelli is running, in part, on his prosecutorial record, and the petition clearly aims to bolster his credentials on crime. In announcing the petition, his office said that under the 4th Circuit's decision, 90 "sexual predators" could be eligible to be freed from the state's sexual offender registry and noted the number of such persons in each region of the state.
At the same time, the defense of a law that many see as outdated may well remind voters of Cuccinelli's longstanding opposition to gay rights. Also on Tuesday, ABC News pointed out that he had co-authored a Supreme Court amicus brief arguing that legalizing same-sex marriage could lead to polygamy. (The Supreme Court is expected to issue rulings Wednesday on California's gay marriage ban and the federal Defense of Marriage Act.)
In 2009, Cuccinelli told the Virginian-Pilot that "homosexual acts" are wrong. "They're intrinsically wrong. And I think in a natural law-based country, it's appropriate to have policies that reflect that. ... They don't comport with natural law. I happen to think that it represents (to put it politely; I need my thesaurus to be polite) behavior that is not healthy to an individual and in aggregate is not healthy to society," he said.
A McAuliffe spokesman did not respond to a request for comment.
Before You Go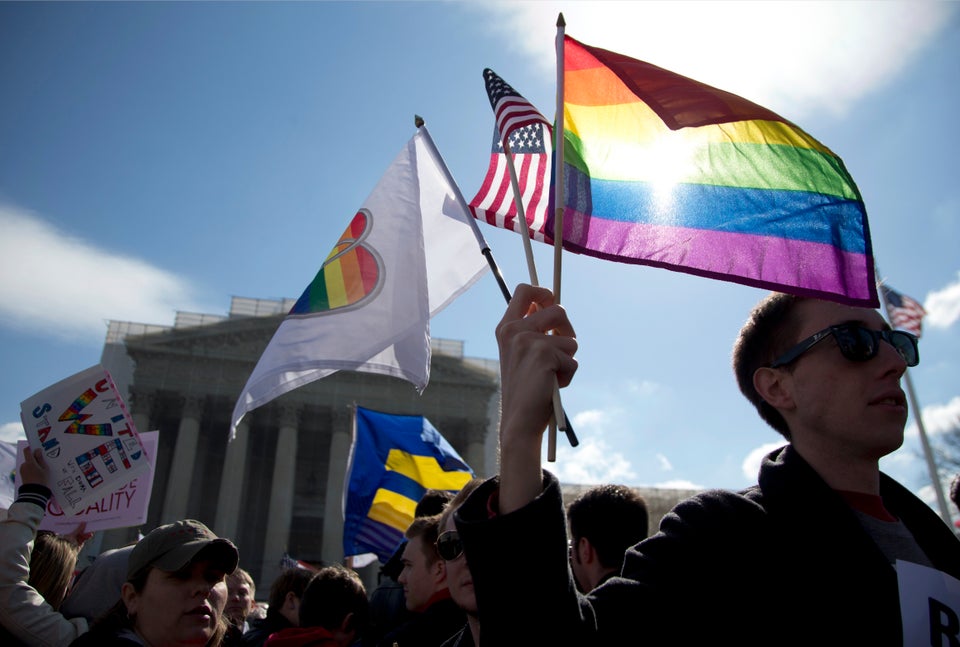 Supreme Court Proposition 8 Case
Popular in the Community