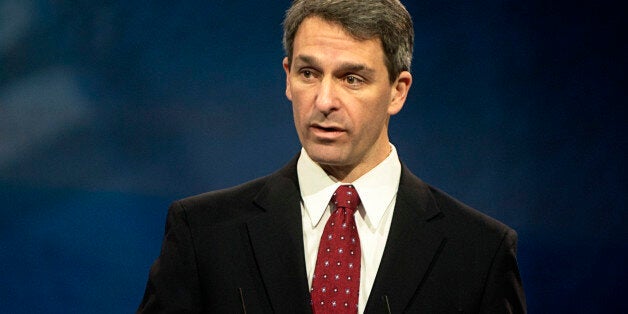 Virginia Attorney General and GOP gubernatorial candidate Ken Cuccinelli will hold a "meet-n-greet" with women this month at the McClean, Va., home of Emily Lampkin, a conservative public relations consultant and former press aide to Vice President Dick Cheney, as polls show him badly trailing his Democratic opponent among women voters.
The past two weeks have been particularly rough for Cuccinelli, who has had to defend his record on women's issues. Last week, a female voter at a campaign event grilled him about the fetal personhood bill he introduced as a state senator, which would have banned abortion entirely and could have potentially outlawed some common forms of birth control.
He promised the woman that he was not "going to touch contraception as governor," and insisted in news interviews the next day that he has a "flat position" on birth control, which is that the government should stay out of it.
This week, a progressive super PAC and Cuccinelli's Democratic opponent, Terry McAuliffe, both released new ads criticizing Cuccinelli's support for the controversial fathers' rights movement. Fathers' rights activists, with whom Cuccinelli has strong ties, contend that men are frequently the victims of false domestic violence accusations and lobby against no-fault divorce, which allows a woman to divorce her spouse without having to prove adultery or physical abuse.
As a state senator, Cuccinelli offered two bills dealing with no-fault divorce: one that would have prevented a parent from obtaining a no-fault divorce if the other parent objects, and another that would have encouraged judges to penalize the parent who asked for the no-fault divorce in matters of custody and visitation rights. If his bills had passed, a woman who wanted to leave her husband, but couldn't prove domestic violence or adultery, would either be forced to stay in the marriage if her husband did not agree to a divorce or face losing custody of her children.
Cuccinelli's campaign told The Washington Post that he "will not apologize for his efforts to encourage strong Virginia families."
The candidate's meet-and-greet with women is scheduled for Friday, Sept. 20. Cuccinelli's campaign said Lampkin is a Cuccinelli supporter, but that he is not one of her official public relations clients.
Lampkin noted in her email to guests that the event is not a fundraiser. "It is an opportunity to hear from the candidate and visit with other women," she wrote.
"Undecided voters are always welcome!"
Support HuffPost
The Stakes Have Never Been Higher
Before You Go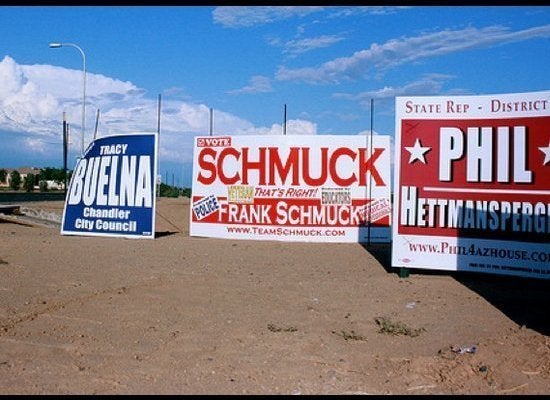 Unfortunate Politician Names
Popular in the Community