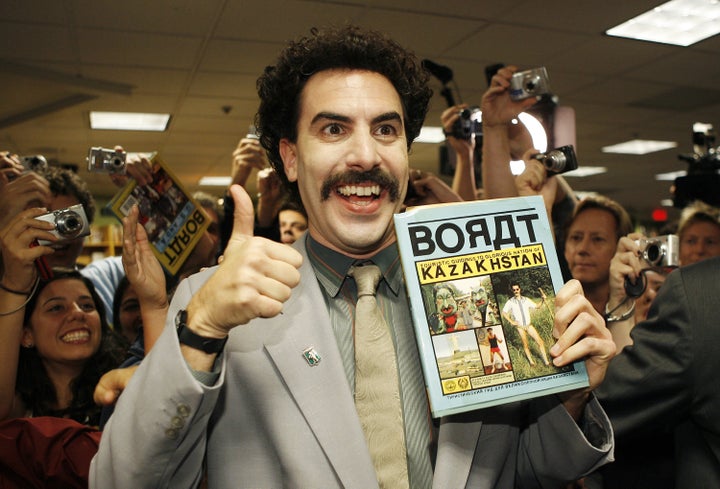 Ken Davitian believes that things work out the way they are supposed to. That's why, when his rubbish business collapsed, it made possible one of this century's most unforgettable movie scenes: a rotund and naked Davitian wrestling with Sacha Baron Cohen in Borat. First, let's dispel a few misconceptions: Ken Davitian, a.k.a. Azamat, is a native of Los Angeles who speaks without an accent. Secondly, he does not eschew clothes in normal life. During this phone interview, he claims to have been sitting on his bed clad in boxers and a Raiders shirt.
Wrestling naked onscreen at multiplexes across the nation was not the actor's idea. In fact, he actively fought against it. "A short fat guy in boxers would be hilarious," he recalls saying to the producers. While he lost the battle, he has no regrets. "It worked. I realized that if you're committed to a project, you go all the way. And it was a life-changer for me."
Borat catapulted Davitian into the big leagues, though his portrayal convinced most people that he was a foreigner. Subsequent roles in Get Smart and Meet the Spartans have done little to change that perception. Now he has a small role in the buzzworthy The Artist -- a silent film -- so audiences will not hear his west coast accent.
Kenneth Davitian, now 58, was born into an Armenian-American family in East Los Angeles. His father had served in the Russian Army in World War II, been captured by the Germans, and eventually found his way to Los Angeles with its sizable Armenian community. Both Davitian's father and grandfather were in the waste removal business. His mother's mother, on the other hand, was part of an Armenian acting troupe that traveled throughout California. After watching her perform onstage when he was 13, Ken says, "I thought, 'Okay, this would be easier than dealing with rubbish.'" He went to college, and began an acting career that included stints on such shows as Boston Legal, The Closer, Six Feet Under, and The Gilmore Girls, often as characters with foreign names.
But there was also rubbish. In between acting gigs, he says, "I had up to six garbage trucks and had the contract for the city of Malibu." Under NAFTA, he spent the early 1990s attempting to "bring modern and clean waste removal to Mexico." Due to circumstances beyond his control, he returned to California in 1995 broke. "But I didn't want 'Rubbish Man' on my tombstone," he says. "I know many who are multi-millionaires in the business but I really wanted to be in a film. Rubbish had to go bad for me in order for the acting to work."
In case the rubbish and film businesses both failed, the actor has also opened several restaurants In the LA area. Today one is still operational -- a hot dog stand called Infield in Sherman Oaks. But he's also not waiting around for next perfect role. He and his two adult sons -- Robert and Aaron -- have a production company through which they are pitching some sitcoms and a reality show. "When I leave this world, I want to leave a production company that my children are involved in," Davitian says. He speaks with pride of his two sons and of Ellen, his wife of more than 30 years.

Ken Davitian is involved in numerous charities, most benefiting children. "It started with a sick child, my youngest," he recalls, "He had a lot of health problems when he was born, but now he's a mountain, he's my muse. He doesn't remember when he was sick, but I do." Davitian has hosted the Children of Armenia Fund's annual event, and sends his poker winnings to St. Jude Children's Research Hospital.
Poker? It turns out that's another thing Armenians do well. "Armenians were in the garbage business and then went into the poker business. I like playing, and I believe that anything you can do to make one kid step further into life is worth doing. If you're blessed, bless back," Davitian explains.
Ken Davitian will appear in two upcoming films -- Melvin Smarty and You May Not Kiss the Bride with Rob Schneider, Mena Suvari and Kathy Bates. But if this acting thing doesn't work out, he's extremely knowledgeable about the hydraulics of garbage trucks and seems to have a promising career as a poker player or as a restaurateur. And what does he want his tombstone to say one day? "Never gave up."