How much do we love Ken Downing?
The Senior VP and Fashion Director of Neiman Marcus is always entertaining and, as fashion show emcee at the fourth annual Splendor in the Garden luncheon at Fairchild Tropical Botanic Garden, held on January 14, he was at his style showman best, keeping 350 of us ladies hanging on his every witty word.
After an introduction by the dapper Stephen Brunelle, VP and General Manager of Neiman Marcus Coral Gables, Downing sauntered down the runway in his trademark skinny jeans and pointy Western boots (he's a Texan boy, after all).
"I don't come to bring fashion to you, I come for your love," Downing cooed from the runway, instantly melting us. And then, of course, a very funny family story, referencing the colorful Dale Chihuly art glass orbs bobbing in Fairchild's waters - of how Downing's father met the famed glass artist when he was just starting out and one could buy his work "for $20 to $30" but at the time Downing's mother "was having a French moment and couldn't be bothered." And then the punch line: "Every time I see a Chihuly orb, I see my inheritance just floating away..."
Off to a roaring start, Downing presented his favorite Spring 2015 looks, which embraced trends including all white, with varying shades of white worn together; black and white architectural looks; and, what Downing termed "the theme of the season" --the "sensuality of the '70s: fringe, spice market colors, a maxi skirt or dress grounded with a flat sandal." (Jury's still out on the flat sandal, or any flat for that matter, but we were loving every maxi look as well as the bright quill feathers sticking out like chopsticks from the models' pulled-back buns.)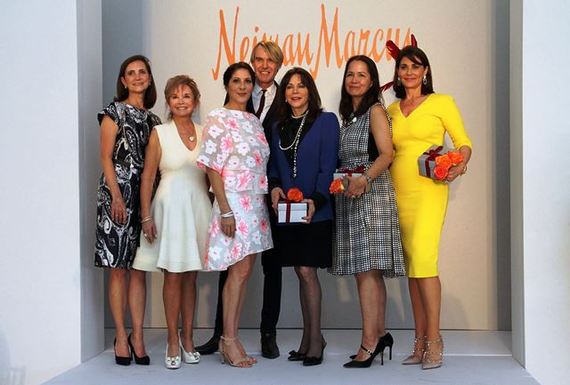 Luncheon co-chairs Frances Sevilla-Sacasa and Swanee DiMare with Ken Downing and honorees, left to right, Yolanda Berkowitz, Katherine Fernandez Rundle, Raphael Bastian and Jennifer Valoppi.
photo credit: worldredeye.com
Co-Chaired by Swanee DiMare and Frances Sevilla-Sacasa, the luncheon honored the 2015 Fairchild Philanthropy Honorees, women who have had a profound impact on our community: Raphael Bastian, Board Member of the Lowe Art Museum and Fairchild Gala in the Garden Committee Member; Yolanda Berkowitz, Voices for Children Foundation and United Way of Miami-Dade; Donna E. Shalala, President of the University of Miami and Professor of Political Science; Katherine Fernandez Rundle, Miami-Dade State Attorney; and Jennifer Valoppi, Founder and President of the Women of Tomorrow Mentor & Scholarship Program. Each honoree was given the star treatment with an introduction by emcee Stephanie Sayfie Aagaard, Miami Herald columnist and philanthropist, and a walk down the runway by Downing himself.
A little about Fairchild: Established in 1938 and comprising 83 acres, Fairchild Tropical Botanic Garden is dedicated to exploring, explaining and conserving the world of tropical plants. The world-renowned plant collections feature palms, cycads, orchids, tropical fruit trees and more. Fairchild has the largest education program of any metropolitan area, reaching more than 200,000 schoolchildren each year with environmental programs. Special events include Chocolate, Mango, Orchid and Edible Garden Festivals in addition to an annual art exhibition, concerts and plant sales. Fairchild is located at 10901 Old Cutler Road, Coral Gables, FL 33156. For more info, call 305-667-1651 or visit www.fairchildgarden.org
Related
Popular in the Community