The president, CEO and founder of Answers In Genesis, "an apologetics ministry, dedicated to helping Christians defend their faith and proclaim the gospel of Jesus Christ effectively," set Twitter abuzz this week after posting about his bid to "reclaim" the rainbow from the LGBTQ community:
Ham stated that "Christians need to take back the rainbow as we do [at Ark Encounter]," a biblically themed amusement park owned and operated by Answers in Genesis and located in Williamstown, Kentucky.
"In recent times the rainbow (albeit with some different colors) has come to represent something far different. To many people it means freedom, love, pride, a new era, and, specifically, the LGBTQ movement. But the rainbow itself wasn't designed to be a symbol of freedom, love, pride, or the LGBTQ movement. God created this beautiful, colorful phenomenon and designated it as a sign of His covenant with Noah and his descendants forever."
Angry that "people ignore what God intended the rainbow to represent and proudly wave rainbow-colored flags in defiance of God's command and design for marriage," which he insists forces Christians to "shy away from using the rainbow colors," Ham pledged to "take back" the rainbow. And apparently, seven months later, he's still crusading.
However, Twitter users were quick to tell Ham exactly what they thought of his boat and his plan to reclaim the rainbow:
The rainbow Pride flag was created in 1978 after politician and beloved queer activist Harvey Milk challenged artist Gilbert Baker to come up with a symbol for LGBTQ community. The flag, which Gilbert debuted in 1978, featured eight different colored stripes, each with a different meaning, including sexuality, life, healing, sun, nature, art, harmony, and spirit.
After 40 years of appearing at Pride parades, queer celebrations and equal rights protests, we have a feeling the LGBTQ community won't be handing over the rainbow to Ham anytime soon. Still, just because we don't see eye to eye on who owns the rainbow doesn't mean we can't all appreciate his big gay boat.
Before You Go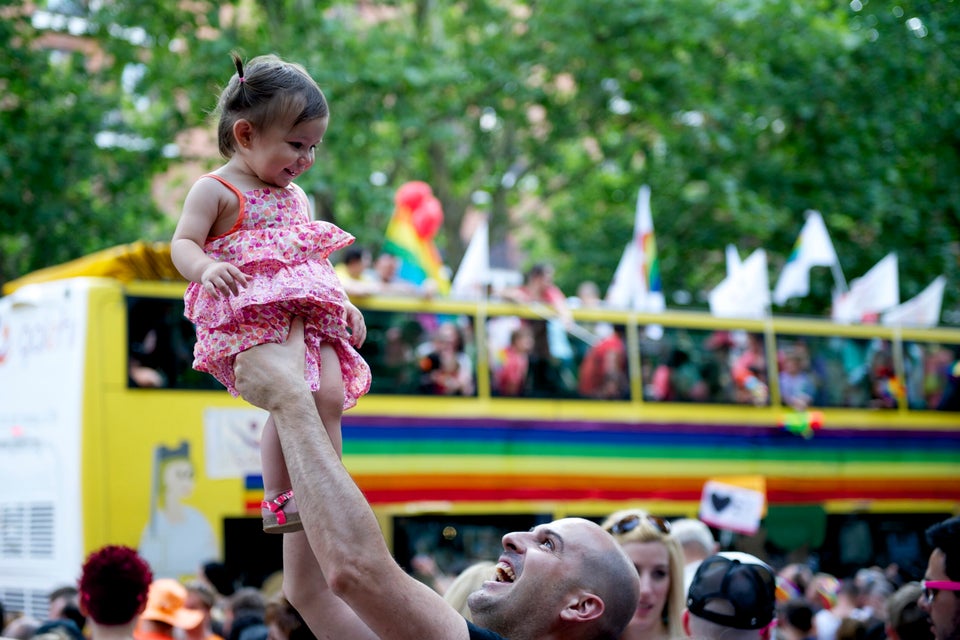 Kids At Pride Parades
Popular in the Community