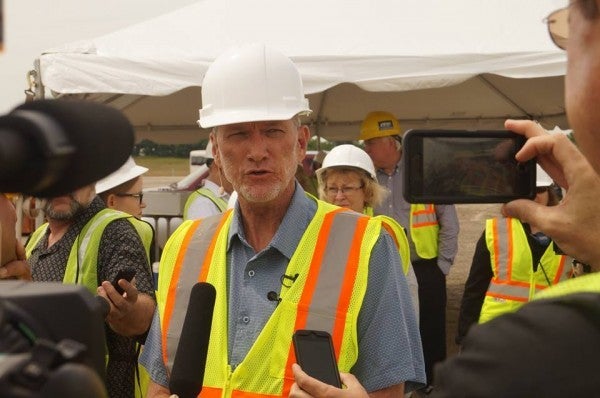 Creationist Ken Ham, the notorious owner of The Ark Encounter and the Creation Museum, has once again found a new way to swindle the good people of Kentucky out of their money.
Not satisfied enough with winning a court battle worth $18 million in tax rebates after convincing a judge that his for-profit business, which is actively using religion as a form of employment discrimination, he has now sold the land the theme park sits on, worth $48 million, to his own non-profit entity, Crosswater Canyon, for $10. You read that right, ten dollars.
This allows Ham to claim his land is a non-profit and not subject to the new safety tax passed by city officials which would have collected 50 cents of every entry ticket sold. This move also worries local politicians and residents because it sets up the park to claim exemption from all other taxes as well that includes the funding of public schools.
When asked about the park's move, and its ability to now avoid all taxes, Williamstown city councilman Kim Crupper said, "I believe this is the first step," adding, "The impact would be far larger than just Williamstown."
When asked about their future tax plans, Ark Encounter officials declined to comment, according to Kentucky.com.
Ham then filed a discrimination lawsuit against the state and won, just as the new Republican Governor, Matt Bevin, took office. Bevin was supportive of the park during his campaign and immediately declined to appeal the ruling, paving the way for his newly assigned tourism board to approve the park's request.
Now that the park has duped the state out of much-needed sales tax dollars, they have decided to further hurt the city that houses them.
This is not a surprising move by Ham, a man who believes that because of his religious convictions he is free to operate outside the law, claiming he only answers to God's law and believes it is his job to find ways to spread his message of young-earth creationism by any means necessary. Apparently, even if that means taking money away from schoolchildren.
It is unclear if the state will change the tax rebate status of the park since this move, but given Gov. Bevin's religious leanings and theocratic nature, it's highly unlikely.
Support HuffPost
The Stakes Have Never Been Higher
Related
Popular in the Community