 After two years of living in his van and "eating lots of peanut butter," Ken Ilgunas, 29, opted for a new adventure. In September he hitchhiked to Canada, and, using a U.S. State Department map, backpacked the length of the proposed 1,700-mile route of the Keystone XL, a project that's become the focal point of the environmental movement's efforts to combat climate change.
"I felt strangely drawn to the XL," Ilgunas said. "Maybe I subconsciously appreciated the significance of this pipeline. I felt a monumental moment in our globe's history, when finally we're trying to get off of fossil fuels and pave the way to a more sustainable future."
Ilgunas, who completed his trek in February, told HuffPost the Keystone project is important to environmentalists not just because of its potential impact on the climate, but also because of its significance as the bete noire in what's proved thus far to be an unwieldy and intractable fight to shift the global economy to cleaner sources of energy.
"The Keystone XL to me is more about symbols than statistics," he said. "The country is beginning to get ready to get off of fossil fuels, and this proposed pipeline project is kind of a natural way to begin that fight."
Some have argued that sort of preoccupation works against the cause of environmentalists, and that putting so much organizational energy into fighting the pipeline is an impractical approach to a much larger problem. "To ensure the end of tar sands oil, the government will have to enact measures to make high-carbon fuel unprofitable," wrote the Atlantic's Lisa Margonelli. (Environmentalists have staged several high-profile rallies at the White House, with one action in February that drew 40,000 activists from 30 states, as well as two protests last year at which hundreds were arrested.)
But to Ilgunas, Keystone did sound like a good place to start.
"I don't know how they can possibly say that the impact on the development of the Tar Sands is unlikely to be substantial. I've seen the Tar Sands -- the impacts are already substantial," Ilgunas said in an email. "In addition to what's already being transported, the XL will transport as much as 830,000 barrels a day. To get a barrel of oil from pit-mining the Tar Sands (the primary method of extraction), they must dig up and move four tons of earth to get just one barrel of oil."
And the State Department's newest report is completely at odds with the findings of NASA's James Hansen, who's said the construction of the pipeline would spell "game over" for the climate.
Having walked the length of the proposed pipeline and having talked to people in each state along the way, Ilgunas feels he has a different sense of what's at stake, both at the macro and micro levels.
Beyond the basic number of jobs needed to begin work, nobody really knows what the total employment impact might be, though there have been a number of wide-ranging estimates.
"It's hard to set a dollar amount on families who've had this land in a family for generations," said Ilgunas. "These people have been living on the land that their grandparents and great-grandparents homesteaded."
Ilgunas likens the political fervor around Keystone to the fight over the Hetch Hetchy Valley. Though initially protected as part of Yosemite National Park, the city of San Francisco won congressional approval to build the O'Shaughnessy Dam in 1913, which buried the Hetch Hetchy -- described by John Muir as "one of nature's rarest and most precious mountain temples" -- under hundreds of feet of water. Although opponents failed to prevent the dam, their rigorous protest, led by Muir, has been credited with spawning an international environmental conservation movement.
"This is the first-ever large public works project that we're fighting because of climate change," Ilgunas said of Keystone XL. "Maybe it will be easier to fight these fossil fuel projects in the future because we're laying the groundwork today."
The State Department, which has purview over the permitting process because the pipeline crosses an international border, will issue a final assessment of the project following a 45-day public comment period. The Obama administration currently expects to reach a final decision by July or August.
Mother Jones' Tim McDonnell has great footage of Ilgunas on the "trail," and Ilgunas himself has chronicled the journey fastidiously for what he hopes will be his second book -- the working title of which is "Trespassing Across America." Below, excerpted from his personal blog "Pipe Dreams," an observation from the final day of his trip.
The human mind struggles to sympathize with a devastated landscape, especially one that was never our home. A whole ecosystem removed from the earth is an unbelievable sight. It's an abstract concept. And appreciating it requires more than just our eyes and ears. On first sight, we'll feel shock and awe and amazement, but I'd wager that only a few are overcome with the moral indignation that we'd originally expected to feel. It's not until afterwards, when we've had time to think it over, to reflect on industry's shortsightedness, to imagine the exodus of animals, and to consider the implications for our climate -- all nebulous, abstract things -- that we'll begin to feel what we'd expected to feel.
Related
Before You Go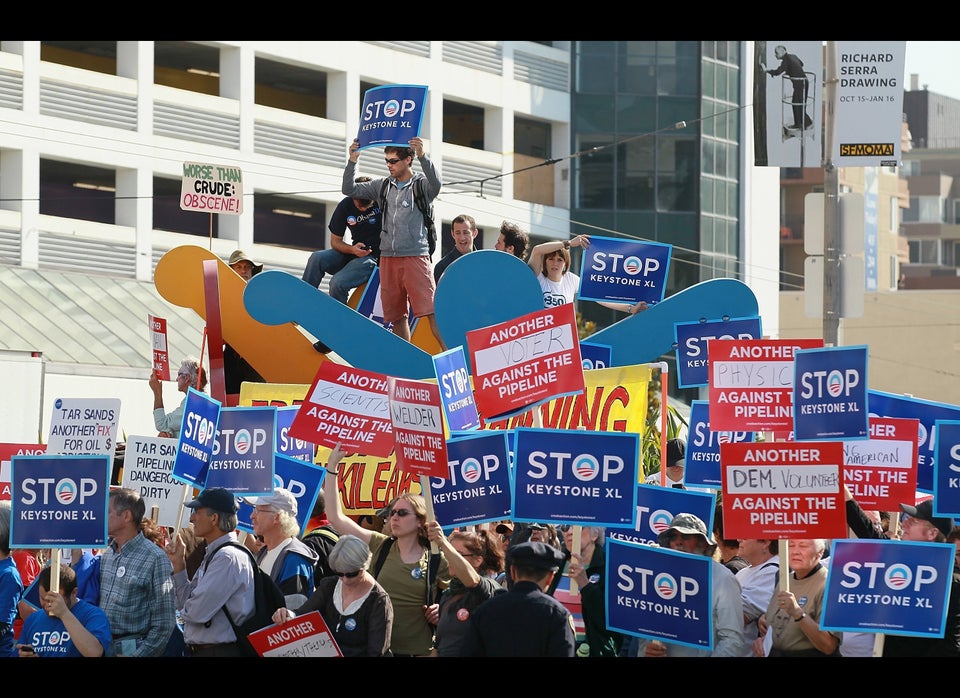 Keystone XL Protests
Popular in the Community