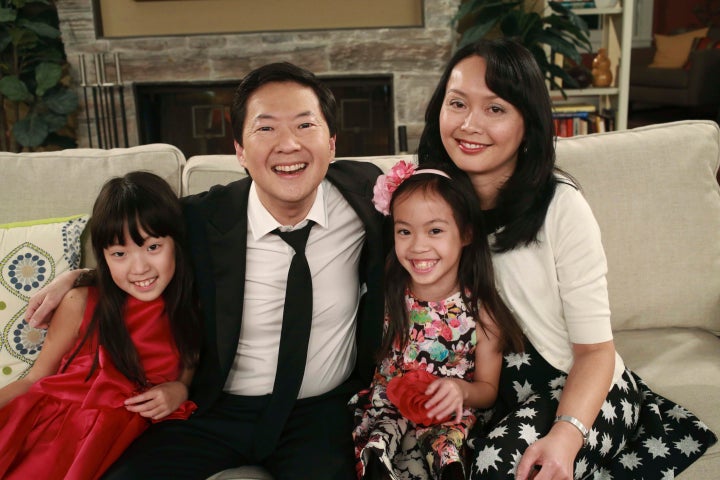 Actor Ken Jeong is known for his comedic talents, the fact that he was a doctor for many years before he turned his focus to acting and, of course, his famous role in "The Hangover." What some people might not know is that he's the father of 11-year-old twin daughters, and that his family life is pretty intertwined with his career.
In honor of the "Dr. Ken" actor's birthday on Friday, we rounded up some of his sweetest (and obviously most hilarious) family moments.
That time he challenged his daughter Zooey to an acting "face-off" on "Jimmy Kimmel Live."
While promoting his role in "Penguins of Madagascar" on Kimmel's talk show, Jeong brought Zooey out and joked that her criticism of his cartoon movie meant she didn't understand how tough it was to be an actor. (She would later go on to join her dad as an actor on his ABC show "Dr. Ken.") He challenged her to a "face-off" in which they instantly had to express emotions like "happy," "sad" and "mad." The video of the competition, below, has racked up more than 3.2 million views, if you're wondering how funny it is.
That time he included some Easter eggs in "The Hangover" as a "love letter" to his wife.
In a segment for ABC News, Jeong and his wife, Tran Ho, who is also a doctor, discussed their experience after she was diagnosed with breast cancer. Their twin daughters, Zooey and Alexa, were just a year old. While his wife was undergoing chemotherapy, Jeong was filming "The Hangover," which would become a hit.
When ABC News' Amy Robach asked what it was like filming a comedy during such a dark time for his family, the Korean-American actor revealed that he included phrases in Vietnamese throughout "The Hangover" as "inside jokes" that he knew would make Ho, who is Vietnamese-American, laugh during her cancer battle.
"It's like the weirdest love letter to your wife, in a very filthy movie," he said with a laugh.
That time he gave a shout-out to Ho during his MTV Movie Award acceptance speech.
In 2010, Jeong won an MTV Movie Award for "Best WTF Moment" in "The Hangover." In his acceptance speech, he tearfully shared the advice Ho gave him before he took on the role.
"She told me that life is short and... don't be afraid to take chances," he said. "And I just want to tell you that Tran is cancer-free for two years."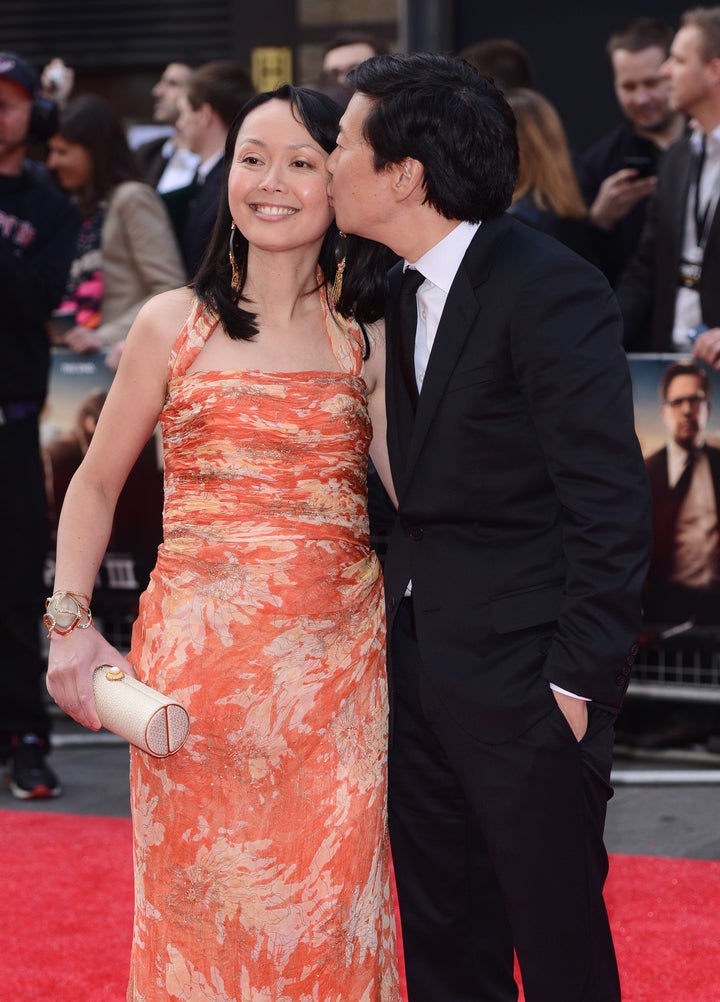 That time he described the "dream" he's living as both an actor and a father.
"I have my own show. I get to work in Hollywood on my own project. If I can still make it back home by eight to put the kids in bed then wow, I am having my cake and eating it too," he said. "Then I get to hang out with my wife for the rest of the night. That is my dream. That is all I really wanted."
That time he revealed what his kids really think of his acting.
In his Life of Dad interview, Jeong said his twins enjoy watching "Community," the NBC comedy on which Jeong had a starring role. He's "very selective" about which episodes they can watch, he said, but he loves that they appreciate the show's humor ― even if it's not coming from him.
"They volunteer to watch it, like, 'Daddy, can we watch some 'Community?'" he said. "And none of them are my scenes. [And they'll say,] 'Daddy, is it OK that I like the scenes that you're not in, [that] I like them the most?' Um absolutely, I like the scenes that I'm not in the most."
He added, "But it's really cool they like that kind of humor because I think 'Community' is a very, very specific type of comedy, and if you're 9 years old and you can appreciate elements of that, that's a pretty cool kid in my opinion."
That time he stressed the importance of letting kids find their own paths.
Jeong has shared in the past that Zooey found a love for acting, while Alexa turned to gymnastics. The actor told People that he and Ho encourage their kids to find what interests them and pursue it.
"It's not like I'm like, 'You've gotta be a doctor and a comic,' but [rather] find your own passion and your own love, and we encourage them to be unique in their own way," he said.
He also discussed what it's like having twins and making sure he motivates the girls to have distinct experiences from one another.
"Every child is different ― they say acting is reacting, and I think it's the same for being a parent," he said. "It's about listening to your child, and both children have different personalities, different expectations, different goals. I think the key to being a good parent is to individualize your love for each child."
That time he wrote a letter to his twins in honor of Father's Day.
For Time, Jeong wrote an open letter to his daughters about all the qualities he admires in them, and his favorite time of the day.
"Putting you both to bed is my favorite part of the day. I love reading to you. Pure joy," he wrote. "There is nothing I'll ever do that will equal being your father."
He also noted that there was "no need for presents" for the holiday.
"I already have my gifts: both of you and Mom," he wrote. "Every day is Father's Day."