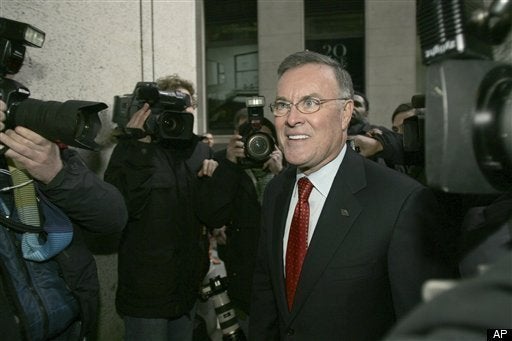 For those of you worried about Ken Lewis' financial well-being since his announcement on Wednesday night that he was stepping down as Bank of America's CEO, rest easy: he's set to walk away with a $53 million pension plan. Fortune reports that this money will come from a pension plan, frozen years ago, that awarded certain top executives with extra benefits.
Ironically, BofA decided to freeze this so-called supplemental executive retirement plan at the same time it got rid of golden parachutes, citing the need to better align executive compensation with investor returns. By any measure, those have been poor at BofA of late....

But before BofA made its compensation switch, Lewis had participated for more than a decade in the supplemental pension plan -- racking up the more than $50 million supplemental plan account.
That $53 million isn't all Lewis will be walking away with -- in addition to retirement benefits, there are millions in accumulated stock and other compensation. As the Fortune piece notes, assessing Lewis' "walking away pay is an inexact science." A Reuters piece puts Lewis' total at $125 million, and adds that he may be facing a "reckoning with the U.S. government's pay czar [Kenneth Feinberg]."
The agreements governing Lewis's severance package pre-date Feinberg's appointment by President Barack Obama in June. But Congress gave the pay czar broad authority to issue advisory opinions that could impact Lewis.

Feinberg, who declined to comment for Reuters' story, is reviewing pay packages for the 25 highest-paid employees at seven companies that needed extraordinary government assistance, including Bank of America. He is expected to begin releasing a first wave of pay rulings by mid-October.
Leading up to his retirement, Lewis was under siege for months over his handling of BoA's takover of Merril Lynch and the billion dollar bonuses awarded to Lynch execs just before the company came under BoA's control.
Popular in the Community